Visitors given gifts for Eid Al Adha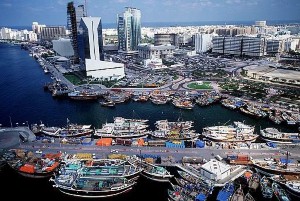 Visitors at both Dubai International Airport and several shopping centres in the city have been given dates and traditional sweets as part of the ongoing Eid Al Adha celebrations.
An important element of the Dhiyafat Al Eid tradition that sees volunteers greet people into the city, it is one way to highlight the local emirati culture and hospitality Dubai is known for.
It was organised between the Hamdan Bin Mohammad Heritage Centre and the Dubai Festivals and Retail Establishment, the latter of which is part of the Department of Tourism and Commerce Marketing. Dhiyafat Al Eid forms part of the Eid in Dubai celebrations, which is in its sixth year. This year's festivities have the theme of 'Eid Al Adha unites us in celebration' and runs from October 10th to 19th.
The welcoming gesture showcases the emirate's status as a place of hospitality, known for its focus on entertainment, luxury and hotels. It displays the strong global tourism appeal that makes Dubai a strong choice for property investors.
Other Eid Al Adha celebrations include 48-hour shopping in some of its centres, while others will stay open as late as 03:00 local time.
Cultural displays and performances can be found in many of Dubai's parks. Acts will appear in seven of the city's parks - Al Mushrif Park, Al Mamzar Park, Al Safa Park, Jumeirah Beach Park, Creek Park, Zabeel Park and the zoo - which will all be open until 23:00 local time each night of the holiday.
To accommodate the attractions and occurrences happening late into the night, the city has also extended the hours of its metro service. The Roads and Transport Authority has moved the finishing time from 23:00 to 03:00 local time on weeknights, with trains starting again at 05:00 local time - running for a total of 22 hours a day. This is keeping in line with the busiest times for shopping, following a similar late-night metro service added to last year's Eid Al Adha activities.