Values for Dubai Marina property 'boosted'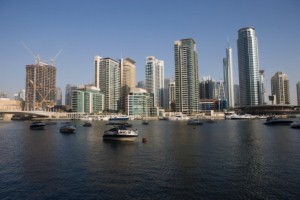 A host of new transport, leisure and retail facilities at Dubai Marina are driving up property values in the surrounding area, due to increased buyer demand, according to a report from Cluttons.
The chartered surveyor and property consultant firm noted that values at the popular beachside location have risen by an enormous 28 per cent to AED1,670 (£295.65) per sq ft over the last five years.
Cluttons believes that the newly launched tram service and the fact that Dubai Marina offers both residents and visitors the perfect mix of retail, dining and entertainment options means that the area is attracting local and international investors.
The idyllic waterfront will continue to boost surrounding property prices, according to the firm, as people in the market are looking for prime real estate with attractive rental yields. Average residential values currently stand at AED1,493 per sq ft, which is substantially lower than premium locations like Dubai Marina.
Faisal Durrani, Cluttons' international research and business development manager, added that as Dubai's real estate market stabilised and became more mature in 2014, house price growth has started to slow, but this is not the case for areas such as Dubai Marina, as it is supported by completed infrastructure and community facilities.
Property in this region appeals to both owners and visitors that are looking for beachside living, he added. Investors are snapping up real estate at Dubai Marina because of the strong rental yields and consistent occupancy rates.