Value of Dubai property transactions exceeds $30bn in H1, 2018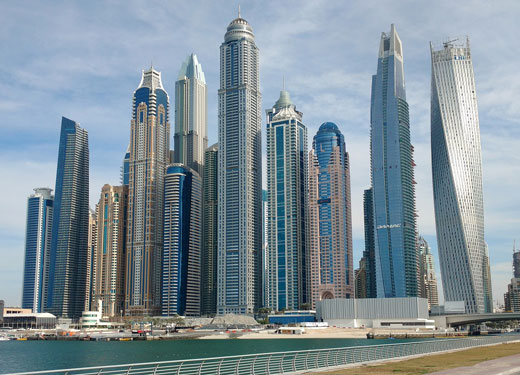 Dubai's real estate sector celebrated another strong performance in the first half of 2018
The total value of real estate transactions in Dubai reached AED111 billion (US$30.2 billion) for the first half of 2018, marking another milestone for the emirate's property sector.
According to the latest data from the Dubai Land Department (DLD), 27,642 transactions were recorded during the six months to June, with 18,191 sales worth about AED40 billion (US$10.9 billion), 7,668 mortgage transactions valued at AED57.6 billion, and 1,783 other transactions valued at AED13.4 billion.
In terms of a regional breakdown, 3,700 investors from across the GCC were responsible for 4,919 transactions worth AED11.6 billion; 2,094 investors from 16 Arab countries made 2,561 transactions worth AED4.1 billion; while 9,935 nationals from 143 other countries worldwide made 11,889 transactions worth AED21 billion.
Emiratis ranked first overall with 2,986 investments worth AED6.8 billion, followed by Indian nationals with 3,218 investments worth AED5.9 billion and Saudis with 1,415 investments worth AED3.7 billion.
Meanwhile, female investors were responsible for 5,526 transactions worth more than AED9 billion.
Business Bay proved the most popular location for investment, with 1,934 property transactions recorded worth AED4.2 billion. Dubai Marina ranked second overall with 1,445 transactions worth AED2.9 billion, followed by Al Merkadh with 1,262 transactions valued at AED2.1 billion.
From a lending perspective, Dubai Marina recorded 498 mortgage transactions worth   AED1.7 billion, followed by Jebel Ali First with 454 transactions worth AED769 million and Business Bay with 453 transactions worth AED3 billion.
Commenting on the results, HE Sultan Butti bin Mejren, the DLD's director general, said: "The strategic decisions launched by the government are in line with the vision of His Highness Sheikh Mohammed bin Rashid Al Maktoum, Vice President and Prime Minister of the UAE and Ruler of Dubai, and have had a significant impact on sustainable growth and on strengthening the competitiveness of the national economy."
Bin Mejren cited the UAE government's decision earlier this year to grant 10-year residency visas to entrepreneurs, investors and others as a significant development that had provided investors with greater confidence to invest in the market.
"Granting investors a UAE residency visa for up to 10 years and reducing government fees included in previous initiatives will be of the most important incentives for economic growth in the emirate, as they will have a positive impact on reducing business costs and will support Dubai's position as one of the best investment destinations in the world," he added.
The Dubai government recently committed to reducing fees relating to property transactions and other areas of the economy in a bid to further stimulate economic growth and make the emirate more attractive to foreign investors.
Dubai Municipality agreed to halve market fees on commercial entities from the current five percent to 2.5 percent, while the DLD waived the four percent late payment fees on property registrations for a period of 60 days.
In a bid to further boost Dubai's economy, the Dubai Executive Council has reduced municipality fees levied on sales at hotels and restaurants from 10 percent to seven percent, while in a boost for expat residents and their families, the government committed to freeze private school fees 2018/19.
"If we were to identify the reason behind the strengthening real estate market, it would be the level of maturity it has reached to maintain its sustainable growth. Expo 2020 is close at hand, and developers in the market are expressing interest in aligning with the directives of the wise leadership to turn Dubai into a global pioneer and an attractive investment hub in support of Dubai Strategic Plan 2021," Bin Mejren explained.