US$1bn The Tower will be 100 metres taller than Burj Khalifa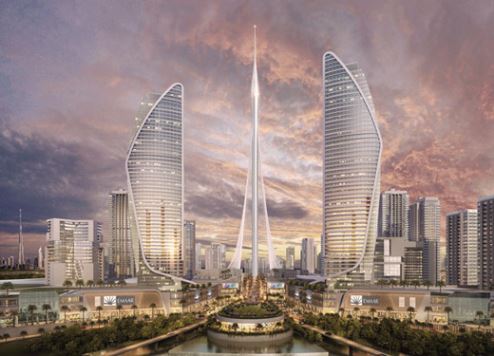 The Tower, which is set to be the centrepiece of Dubai Creek Harbour development, will be 100 metres taller than the Burj Khalifa, according to the developer.
The AED3.65 billion (US$1 billion) structure will stand at around 928 metres, stealing the title of world's tallest building from its rival in Downtown Dubai.
The height of The Tower was revealed by Emaar Properties chairman Mohamed Alabbar in an interview with CNN where he revealed details of the skyscraper, which has been designed by Spanish architect Santiago Calatrava Valls.
"The new Burj will have cables supporting the building; the cables are almost like jewellery, and Calatrava has done a fabulous job," said Alabbar.
"The tower will have a boutique hotel, few floors of gardens, restaurants, observation [decks] and function halls. The plaza will be much bigger than this [Downtown] plaza because of the sheer size of the tower and the cables… but what we will do with the plaza and how we beautify it and the real estate around it will be quite a job."
A press release revealing details of the project earlier this year said the tower would have a Pinnacle Room offering 360-degree views of the city, while the VIP Observation Garden Decks will recreate the Hanging Gardens of Babylon.
The Tower will also have an efficient cooling system and the water collected from it will be used to clean the structure's facade.
Top five facts about The Tower:
1. It was designed by Spanish-Swiss architect Santiago Calatrava
2. The Tower will be the centrepiece of six-square-kilometre Dubai Creek Harbour project.
3. It is inspired by Islamic architecture; The Tower draws design inspiration from the lily and evokes the image of a minaret, which is a common feature and distinctive aspect of Islamic culture, Emaar said.
4. The 360-degree viewing deck called The Pinnacle Room will be the "crowning glory" of the tower, according to the developer.
5. Construction will begin this summer with a view to completing The Tower, as well as its adjacent mega-retail district, by Expo 2020.