UK airports 'won't surpass Dubai as international hub'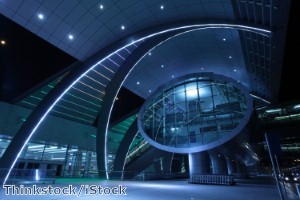 The chief executive of Dubai Airports believes that the UK's airports are unlikely to present Dubai International with a challenge to its status as the world's busiest global hub.
As the news that the emirate's airport surpassed Heathrow as the globe's busiest in terms of the amount of international passengers it handles, Paul Griffiths told the Financial Times that he wasn't worried about Britain taking back the crown.
He said: 'Heathrow is losing a lot of traffic to Dubai because we're able to cater for the connections that Heathrow no longer has the capacity to service.'
During 2014, Dubai International handled 71 million international passengers, compared to the 68.1 million that passed through Heathrow.
This news comes as the Airports Commission, a body set up by the UK's government, decides whether it should recommend constructing a new runway at Heathrow or at Britain's second largest airport, Gatwick.
When the total number of international and domestic passengers are combined, over 73.4 million travellers passed through Heathrow in 2014, up by 1.4 per cent compared to the previous year.
However, Mr Griffiths, a former head of Gatwick, said that these figures didn't worry him, as he believed Dubai would continue to demonstrate robust growth, adding it was 'highly unlikely the UK will regain number one spot for international passengers'.
He added that when an airport's capacity is constrained, companies begin to move their headquarters overseas to reduce the cost of travel, striking at the heart of a country's ability to be competitive.
It's not just Mr Griffiths who believes Dubai is set to stay at the top, as David Bentley, an analyst at the Centre for Aviation, said: 'Dubai has got them on the run. Now it's ahead, it's ahead to stay there.'
The emirate managed to take the crown from Heathrow, despite operating at a reduced capacity due to closing one of its runways for 80 days to complete a refurbishment project that enables flights to exit the tarmac quicker once they've landed.