UAE resumes $12bn worth of construction projects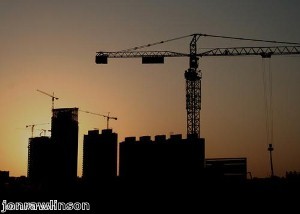 The UAE has resumed construction developments worth around $12 billion (£7.2 billion) over the past 18 months.
Statistics released by global information provider MEED Projects in APril 2014 stated this practice was a clear sign the property market is continuing to recover from the global economic crisis. The decision to award Dubai the opportunity of hosting the Expo 2020 event was also highlighted as a reason the construction sector has picked up as of late. 
The emirate has since seen developments in the Business Bay, Downtown and the International Finance Centre areas recommence. The report suggested only those in more central districts are likely to start up again, while projects in more peripheral locations such as Dubailand may struggle to be brought back to life.
MEED stated developments worth a total of $23 billion were awarded to the construction sector last year, with 55 per cent of these being used for mixed use or residential properties. This equated to the highest number of projects commissioned in the UAE after the economic crisis of 2008. A further $1.8 billion was awarded to hospitality projects, while over $800 million has been earmarked for retail endeavours. 
In addition, the study another expects $23 billion of property developments will get underway across the country in 2014, with $5 billion of this taking place in the first quarter alone. Meanwhile, a separate report by EC Harris suggested expenditure on new contracts will reach $329 billion by 2030.
Julian Herbert, director of MEED Projects, commented: "2013 showed some of the most promising growth in the construction sector since 2010, with especially strong figures in the residential and mixed use sectors. This is a positive sign of increased investment in the UAE's economy, both from developers and from property investors."
He added the country was now well on track to return to the levels of expenditure last seen back in 2008 and expected 2014 to be even more successful.