UAE 'can do a great job of staging boxing matches'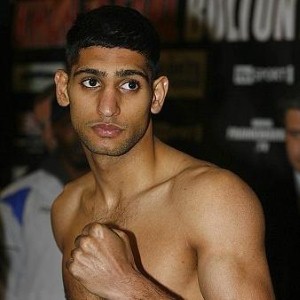 British boxing sensation Amir Khan believes the UAE has the potential to host major boxing matches in the coming years.
Talks are in progress to stage the Bolton-based fighter's next bout in Dubai and he is adamant the emirate has all the necessary attributes to become a hub for the sport.
He told the National that Dubai has plenty of boxing fans, but the city needs to start attracting famous brawlers in order to raise its profile on the world stage.
'Dubai is a city which is big for many things but not boxing,' he was quoted as saying.
'Putting on world title fights with big names will get them that attention, and when other fighters see the benefit, then they will think about Dubai as their next fight.'
Khan said his next opponent - Devon Alexander of the US - wanted to fight in Las Vegas, but the Briton is hopeful that the bout will go ahead in the Middle East instead.
In fact, he thinks the UAE has the potential to be 'as good as Vegas or even better' when it comes to hosting major boxing events.
He said the country did a great job of organisation Ultimate Fighting Championship matches, so there is no reason it cannot excel in boxing too.
If the Khan vs. Alexander fight does go ahead in Dubai in December this year, it will be the city's first high-profile bout since 1997, when Britain's Chris Eubank beat Camilo Alarcon.
There had been rumours that Filipino boxing legend Manny Pacquiao could be set to fight in Dubai in 2013, as like Khan, he is keen to compete outside of Vegas, but nothing concrete has been agreed as yet.
Other world-class boxers, including Mike Tyson, had been lining up fights in Dubai in the past, although these never materialised.
Property investors will certainly benefit more than most if Dubai does become a global boxing hub, as the sport is renowned for attracting high-rolling spectators, who will all be willing to splash the cash on luxurious accommodation when big fights are being held in the sheikhdom.