UAE air traffic continues to rise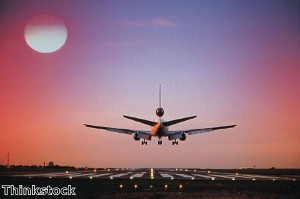 The UAE's status as a global aviation hub continued to grow in July 2013, as passenger traffic increased by 2.9 per cent when compared with the corresponding month in 2012.
This is according to figures provided by the UAE General Civil Aviation Authority and is a clear indication the Gulf nation's popularity as a holiday destination is booming.
Unsurprisingly, Dubai led the way, with 29,074 traffic movements during the month, which accounted for nearly half of the final total.
Planes travelling over the country came second on the list, while Abu Dhabi was third with 10,064 aircraft entering the city.
Interestingly, the number of flights leaving Ras al Khaimah (RAK) - one of the northern emirates - rose to 382 in July.
RAK has very much played second fiddle to nearby Dubai when it came to attracting tourists in the past, but there are signs that more people are now visiting the region.
A lot of work has gone into expanding RAK International Airport and increasing the number of services linking the area with other parts of the world.
In a recent interview with anna.aero, the airport's commercial and financial director Mohammed Qazi said plans are in place to build on the facility's recent success.
'Our passenger traffic is doing as we expected, but we may surprise everyone with planned announcements from RAK Airways to launch new routes over the next few months,' he remarked.
'Plus we have a few other irons in the fire, which we will announce at a later stage.'
The airport's main airline is RAK Airways, which recently announced brand new flights to Islamabad in Pakistan and the Jordanian capital of Amman.
Both services were launched at the start of August and president and chief executive officer at the carrier Murabit Al Sawaf confirmed that Amman was the firm's 11th destination thus far.
'The demand from northern emirates is excellent and we have achieved a full launch flight,' he commented at the time.