Transport plans ready for Expo 2020 success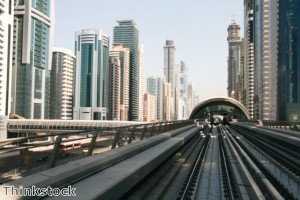 If successful in its bid for Expo 2020, Dubai will conduct various transport projects to prepare for the event.
The Road and Transport Authority (RTA) has plans covering buses, trains and roads that will help adapt to the estimated 25 million visitors expected to come with the event - which Dubai is said to be a strong contender to win the bid for.
Speaking to the Khaleej Times, RTA's chairman and executive director Matar Al Tayer stated the city has invested significantly in its road and transport network over the last six years. He said this funding was signed off with a goal of meeting construction and economic needs - the results of which can be seen in Dubai's growing success today.
He said: 'The efforts made by RTA, and those excreted by the rest of the ministries, federal and local government departments, has contributed greatly to the UAE winning the top position globally in roads quality according to the World Economic Forum (Davos) 2013-2014.'
Plans will include adding environmentally-friendly buses, running between assembly points and the main centre, as well extending the Dubai Metro's red line to build a station specifically serving the exhibition. Mr Al Tayer stated taxis would be made available exclusively to those visiting Expo 2020.
Other efforts include building a 14 km tramline along Al Safouh Road, with the first stage to be completed in November next year. This service will initially offer 11 out of 17 planned stations, running between Dubai Police Academy and Dubai Marina - a popular location for hotel developments.
Around 66,000 people will be expected to use the tram service on a daily basis by 2020, with its proximity to the Marina proving useful for tourists and visitors.
Additional improvements include new stations and rail lines. Al Maktoum Airport Station, for instance, will better connect the airport with Dubai Metro, proving highly useful for visitors arriving into the city. Mr Al Tayer expressed a goal of moving 30 per cent of daily public transport movements onto the rails by 2030.