Tourists 'flock' to Dubai via cruise ships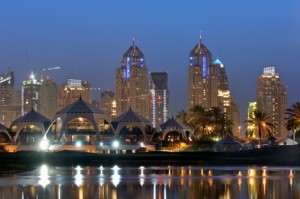 Dubai's Department of Tourism and Commerce Marketing (DTCM) is expecting the emirate's cruise tourism sector to grow.
Last year the emirate received 407,000 tourists, while as many as 300,000 visitors are set to arrive by cruise ship during the 2013-14 holiday season, according to Dubai Cruise Tourism's predictions. The figures highlight another popular access point for holidaymakers to the emirate, alongside its airports.
Director general of Dubai's DCTM Helal Saeed Al Marri said: 'The 2012-13 cruise season reached new heights. We are proud to announce 93 confirmed ship calls this season, and we are also delighted to welcome seven maiden ship calls, a reflection of Dubai's burgeoning appeal as a cruise hub.'
The increase in visitors is great news for the emirate's tourism sector - whereas figures from the likes of Dubai International Airport are a good measure of the incoming people, it doesn't necessarily differentiate between tourists, returning residents or those on business. Cruise ships, however, typically cater for tourism and give an active indication of the city's popularity as a holiday destination.
According to Mr Al Marri, out of 93 shipping calls, 63 were home-port calls. In other words, around two-thirds of the vessels were using Dubai as a port to arrive or depart from and it's not unheard of for tourists on home-ports to extend their holiday.
At the very least, it allows many people to get a quick experience of what the city can offer, potentially encouraging them to return for a longer holiday next time.
It also highlights the appeal of Dubai's waterfront, where emerging hotels such as Dubai Marina make for potential investment.
Mr Al Marri said: 'The Middle East is increasingly being recognised as a key growth market, following major commitments to make substantial investments to promote the cruise tourism industry.'