Tourism's contribution to Dubai's economy revealed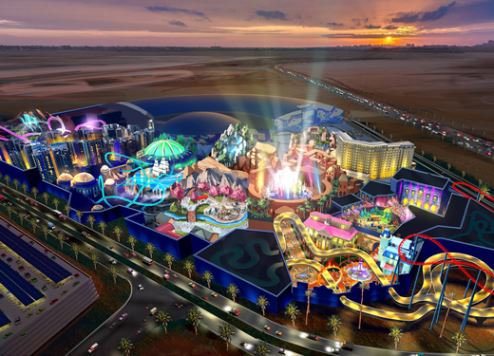 Tourism contributed US$64 billion to the UAE's economy in 2016 and this figure is set to almost double over the next 10 years, the latest research by the World Travel & Tourism Council (WTTC) has revealed
The travel and tourism industry has been earmarked as a key growth sector for the UAE as part of its ambitious economic diversification policy.
In 2015, the sector's total contribution to the country's GDP was AED133.8 billion (US$36.43 billion) or 8.7 percent, growing by 4.4% in 2016 and then 5.4 percent per annum to hit a predicted AED236.8 billion ($64.47 billion), or 11.2 percent of GDP, by 2026.
These are the latest figures to be shared by the World Travel & Tourism Council (WTTC) in its Travel & Tourism Economic Impact 2016 United Arab Emirates report.
The research provides true insight into the growing value of the country's travel and tourism industry as it forges ahead with its strategy to boost tourism-related infrastructure development and attract an increasing number of business and leisure travellers from across the globe.
More than AED27.4 billion ($7.46 billion) was pumped into the UAE's travel and tourism sector in 2015, a significant 7.3 percent of total investment.
This was anticipated to jump 2.8 percent in 2016, and by 6.8 percent every year over the next 10 years to reach AED54.4 billion ($14.81 billion) in 2026, or 8.2 percent of total investment.
The UAE is determined to become one of the world's leading tourism destinations and WTTC's report reveals that in 2015, it was ranked 28th out of 184 countries in terms of the relative importance of travel and tourism's total contribution to GDP.
In terms of the sector's size and GDP contribution, it ranked 105th, but its 2016 growth forecast ranked the country 42nd out of 184.
Looking at the 10-year growth forecast, WTTC says the UAE ranks in 48th place.
Of course, the growth of the industry generates more job opportunities, and the key beneficiaries are hotels, travel agents, airlines and other passenger transportation services.
The WTTC reveals that in 2015, travel and tourism directly supported 330,000 jobs (5.7 percent of total employment). This was expected to rise by 3.8 percent in 2016 and 4.3 percent per annum to 520,000 jobs (or 7.6 percent of total employment) in 2026.
However, restaurants and leisure industries benefit from tourism too and therefore supports jobs in both.
Therefore, in 2015, the total number of jobs the sector supported amounted to 9.6 percent of the UAE's total workforce (557,000 jobs). This is expected to rise by 3.8 percent in 2016 to 578,000 jobs and by 3.9 percent per annum to 850,000 jobs in 2026, some 12.4 percent of the total.
The individual emirates within the UAE have all set out ambitious arrivals targets.
Leading the pack is Dubai, which aims to attract 20 million arrivals by 2020.
During the same year, Dubai will host the World Expo, marking the first time the famous event has been staged in the Middle East. At least 25 million visitors are anticipated, more than 70 percent of whom will hail from outside the UAE.
By 2026, the number of international tourists visiting the UAE will hit 30.94 million and they will spend AED167.7 billion ($45.66 billion), the WTTC reveals.
This represents a 5.4 percent per annum increase in terms of spend over the next decade.
In 2015, visitors to the UAE spent AED95.5 billion ($26 billion). This was expected to grow by 3.3 percent last year when 15.76 million international tourist arrivals were anticipated.
Leisure travel spending (inbound and domestic) generated 79 percent of direct travel and tourism GDP in 2015 or AED97.9 billion ($26.65 billion), compared to 21 percent for business travel spending or AED26 billion ($7.08 billion).
Leisure travel spending is expected to grow by 4.4 percent in 2016 to AED102.2 billion ($27.82 billion), and jump by 5.4 percent to AED173.2 billion ($47.15 billion) in 2026.
Business travel spending is expected to grow by 0.3 percent in 2016 to AED26.1 billion ($7.11 billion), and nudge up by 4.4 percent annually to AED40.3 billion ($10.97 billion) in 2026.
This demonstrates the growth trajectory and potential of the UAE's travel and tourism sector as it continues to roll out mega projects with leisure visitors in mind.
Recent announcements for new theme parks, in addition to the recently opened IMG Worlds of Adventure and the Dubai Parks & Resorts (DPR) multi-themed destination, are likely to render these tourism growth forecasts conservative.
Newly-announced projects include IMG Worlds of Legends, Six Flags at DPR, and a Formula One themed park at Dubai's Motor City, as well as SeaWorld Abu Dhabi on Yas Island.
Developments such as these, along with plans for new tourism destinations, cultural venues, shopping malls, and leisure and entertainment activities, could see the UAE shoot up the rankings further in the next travel and tourism impact report by WTTC.