Top 5 reasons to invest in Dubai hotels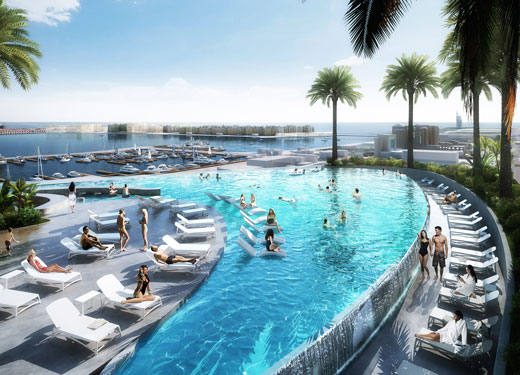 Considering investing in Dubai's thriving hotel market? Read our Top 5 guide to learn why it represents a sound investment decision
Dubai is one of the world's most popular destinations
Dubai welcomed a record 15.92 million visitors in 2018, making it the world's fourth most-popular destination. It is also the world's most valuable destination, with visitors spending more money during their time in Dubai than any other city worldwide. According to MasterCard's latest Global Destination Cities Index, international visitors to Dubai spent a combined $30.82 billion in 2018, with the city topping the list for the fourth year in a row. Average visitor spend per day reached a record US$553, while total expenditure is forecast to rise 4.18% this year. By way of comparison, second-placed Makkah in Saudi Arabia, reported total visitor expenditure of $20.09 billion and average daily spend of just $135.
Dubai is expected to attract 20 million visitors in 2020, the year it hosts the region's first World Expo.
The mega event itself is expected to attract around 25 million visitors from at least 180 nations over its six-month duration, create more than 277,000 new jobs and generate an economic impact of around US$24 billion.
Rising visitor numbers driving demand for quality accommodation
The influx of visitors anticipated over the next 18-24 months is driving demand for quality accommodation in the vicinity of the Expo site in Dubai South. The First Group is currently developing three upper midscale hotels in Jumeirah Village, which is located 15 minutes' by car from the Expo site, as well as Al Maktoum International Airport. Each project represents a lucrative investment opportunity:
The One Jumeirah Village Circle (operating as Ramada Plaza): Spanning 45 floors and featuring 491 guestrooms and suites, Ramada Plaza, JVC will be home to a range of world-class guest amenities including a Club House featuring a rooftop swimming pool, gymnasium, steam rooms and sun deck; premium restaurants; a fully equipped business centre; VIP Lounge and Bar; and 24-hour security and valet parking.
Avalon Tower (operating as Copthorne Jumeirah Village Circle): This premium three-star property will feature 352 suites spread over 17 floors. The hotel will house premium amenities including a luxury clubhouse, gym and rooftop swimming pool.
The One at Jumeirah Village Triangle (operating as Millennium Place JVT): This exciting four-star upper midscale hotel will house 579 suites and a range of premium guest amenities.
 In addition, The First Group's portfolio of residential towers in Dubai Sports City are also a convenient distance from the Expo site.
World-class infrastructure and services
With ultra-modern transport infrastructure including two international airports, the region's largest metro system and a world-class motorway network, Dubai is truly a modern metropolis that wows visitors and residents alike. The next phase of Dubai's transport infrastructure development will see the introduction of smart services ranging from driverless vehicles to traffic flow management based on artificial intelligence, ensuring travelling in Dubai is not only safe but incredibly efficient.
Dubai is one of the world's safest cities, while the UAE is an economic and political safehaven and a beacon of stability in the region.
For the past seven years, Dubai has been recognised as offering the finest quality of living in the Middle East and Africa in Mercer's annual Quality of Living Survey. The study of more than 230 destinations worldwide uses dozens of criteria such as political stability, healthcare, education, crime, recreation and transport to assess a city's living standards. Dubai also ranked first in the MEA region for the quality of its city infrastructure.
"The government has progressively worked towards enhancing the country's infrastructure, safety and stability among other factors to provide a comfortable environment for all residents," says Rob Thissen, energy sector and talent mobility leader for Mercer Middle East. "Dubai's stability over time [is due to the city's] steady enhancements, which are attracting foreign investments and demonstrated a popular destination for employee and company relocation. Access to basic necessities are key drivers to attracting and retaining investors."
Dubai is a magnet for foreign investment
Dubai now ranks among the world's top three destinations for foreign direct investment (FDI). According to data from Dubai FDI, foreign investment in Dubai's economy totalled $5.5 billion in the first quarter of 2019, marking a 176% increase compared to the same period in 2018.
Last year itself marked a record period for investment inflows to Dubai. Total FDI in the emirate rose 41% year-on-year in 2018 to AED38.5bn ($10.5bn), with the United States, India, Spain, China and the United Kingdom accounting for 70% of the total figure. In terms of overall standings, Dubai was the number one destination for FDI in the Middle East in 2018, and sixth overall worldwide.
In an interview with Bloomberg earlier this year, Fahad Al Gergawi, CEO of Dubai FDI, said he was confident the city would set a new record for FDI in 2019. "We're looking at probably a better year, where numbers could be even higher than the performance we had in 2018," he said. "We're in a city of optimism always, and His Highness [Dubai leader Sheikh Mohammed bin Rashid Al Maktoum] has shown us this is the way.
"Investment generally in the last years has grown in Dubai tremendously. Looking at last year's performance, coming from where we were before, it was a tremendous one."
Dubai's hotel sector delivers consistent results
Dubai's hotel sector is the region's largest and most consistent performer, delivering strong and stable results across key performance indices. According to STR data, Dubai's average hotel occupancy rate reached 76% in the first half of 2019, while occupied room nights totalled 15.71 million, up 5% compared to the same period in 2018. Dubai's hotel room inventory stood at 118,209 at the end of July 2019, representing a 6% year-on-year increase. Luxury five-star and four-star hotels accounted for 34- and 25-percent of the emirate's total inventory, respectively.
By way of direct comparison, in the first quarter of 2019, Dubai reported an average occupancy rate of 84% (Vs Middle East average of 71%) and revenue per available room (RevPAR) of $114.00 (Vs $105.00).
In July – traditionally the low season – the comparison was starker, with Dubai's occupancy rate reaching 74% (Vs 60.8%) and RevPAR totalling $85.00 (Vs $72.51).
Dubai is the Middle East's most dynamic city and one of its wealthiest. It is also the region's biggest hub for trade, commerce and leisure, which will ensure continuing demand for quality hotel accommodation, generating strong and consistent returns to hotel investors.