Time-lapse video 'showcases spectacular Dubai'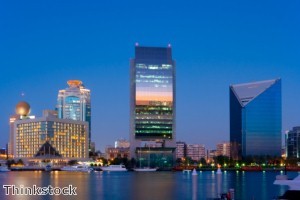 Dubai is always looking for fresh and innovative ways to market itself to tourists across the world and a British filmmaker has come up with something very special.
Rob Whitworth has created a three-minute time-lapse video that takes the viewer on a sky-high tour of the emirate at speed, capturing everything that makes it unique and spectacular.
The short film showcases various aspects of Dubai, including its record-breaking buildings, vast desert landscape and famous skyline.
"My first impressions of Dubai were consumed with the spectacle of super-tall buildings jutting out of the desert sands," Mr Whitworth explained.
"However, the lasting impression was the wonder of the desert, and its importance to the Emirati people. Dubai may be home to the world's most outrageous skyline, but Dubai's desert dunes and historical creek are where you'll find its soul."
At the start of the video - entitled Dubai Flow Motion - the viewer is shown the perspective of someone who has just landed at the emirate's airport, and the film follows this person as they collect their luggage and board the Metro train.
The viewer is then whisked away to the Burj Khalifa Tower and makes their way up the many floors, past homes, malls and the observation deck. It reveals how much there is to do in Dubai, such as ice-skating and sand dune riding.
Both tourists and residents watching the video will instantly be reminded of the spectacular sight the emirate is during the evening, as the clip shows the Dubai Fountain and a dazzling fireworks display.  
In addition to Mr Whitworth's video, the government will be launching a 3D map of the emirate by the end of 2015, which will help those thinking of visiting to see a snapshot of what is on offer in Dubai.
The 'precise photography' map will be updated with new pictures every six months to ensure that it's always current. According to the municipality, Dubai's 3D map will be better than Google Street View, as it will use a composite image that has been processed from different photos to provide a 'real' 3D picture.