The Yellow Boats teams and City Sightseeing launch ultimate tourism ticket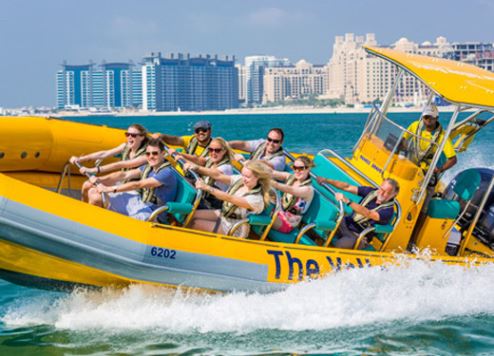 Offshore sightseeing company The Yellow Boats has teamed up with City Sightseeing Dubai tours to launch a new combination ticket from September, giving visitors the chance to try both onshore and offshore activities at a pocket-pleasing price.
For just AED 340 per adult and AED 220 per child, combination ticket holders can tour the best of Dubai via the hop-on, hop-off buses for a full 24 hours, and take in incredible city vistas from the sea aboard a 75-minute Yellow Boats trip, enjoying savings of up to AED 100.
The Yellow Boats' guests will also benefit from a free City Sightseeing transfer service, allowing them to travel around Dubai Marina and Palm Jumeirah to a dedicated Yellow Boats bus stop from August. All Yellow Boats ticket holders can use the bus, and simply need to show details of their booking to board.
Having recently been awarded its fourth consecutive Certificate of Excellence from TripAdvisor for 2016, The Yellow Boats have become a familiar and much-cherished sight in the UAE cities of Dubai and Abu Dhabi, popular with both residents and visitors of all ages.
The 75-minute Dubai trip that forms part of the new combination ticket sets off from Dubai Marina and cruises around Palm Jumeirah, taking in the incredible architecture, luxurious villas and the world's most iconic hotels, including Atlantis, The Palm.
The state-of-the-art 10-seater rigid inflatable crafts then hit the open water, circling the seven-star Burj Al Arab, as The Yellow Boats' skippers offer insider knowledge and stop for once-in-a-lifetime photo opportunities.
Combination tickets holders will also have 24-hour access to the entire City Sightseeing bus route, which travels between the old and new of Dubai, taking in everything from souks, mosques and museums to beaches and magnificent malls.