The Killers headline Sandance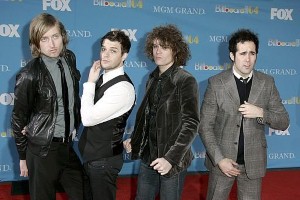 The Sandance festival is taking place tomorrow (October 11th) with The Killers headlining the event.
They will appear alongside The Wailers and Of Monsters and Men for the 12-hour celebration, which runs from 14:00 local time on the Friday to 02:00 local time Saturday morning. Other acts and DJs will be performing throughout.
Previous Sandance festivals have seen the likes of The Fray, Florence and the Machine, Fatboy Slim, Stereophonics, Noel Gallagher and Basement Jaxx perform.
The one-day event only started in 2010, but it forms part of Dubai's growing music and entertainment seen. Last month saw Dubai Music Week run from September 24th to 29th, featuring world famous acts such as Selena Gomez and Will.I.Am taking to the stage at Dubai World Trade Centre.
Dubai is making a name for itself when it comes to entertainment and music - its international appeal is also having a positive influence on the growing hotel business in the city.
If that was not enough, The National reports the Sundance LIVE's retro music festival MiXTAPE Rewind will take place on January 17th. This will feature performances from older music acts - such as Boney M, Vengaboys, N'Trance and Snap - appealing to an older audience. It is arguably one of the more unique of Dubai's music events.
Sundance LIVE managing director Mario Zakhary said: 'MiXTAPE Rewind is a feel good concert; it's all about reminiscing and having a good time. No fluff just a good a time. This season we wanted to make sure the lineup represents a diverse style of music and artists of the two decades. MiXTAPE Rewind's focus is tapping into great memories and creating [an] experience to remember."
Likewise, next year will see the Emirates Airline Dubai Jazz Festival 2014 take place between February 13th and 21st. This popular occasion will focus on multiple genres of music, not just jazz, with famous acts such as Jamie Cullum already set to appear on stage.