The First Group to 'tap into demand for Dubai Marina properties'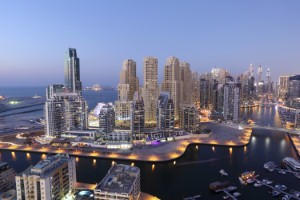 We are delighted to announce that we are in the process of constructing two new luxury hotel developments in Dubai Marina, to capitalise on its growing popularity among both investors and tourists.
Once work is complete on the Wyndham Dubai Marina and TFG ONE Hotel, Dubai Marina, US-based hotel behemoth the Wyndham Hotel Group will manage operations on behalf of The First Group.
"We always put a lot of careful thought into selecting the locations for our properties, but with Dubai Marina, it was an easy choice," commented Rob Burns, our chief operating officer.
Last year, PropertyFinder.ae carried out a survey that revealed Dubai Marina was among the most searched-for locations for renters, achieving 17 per cent of the total searches on the site, making it the hot favourite.
The website believes that the appeal of the area has much to do with its waterfront ambiance and popularity among expats.
"PropertyFinder.ae's findings only confirm our decision to invest in this exciting address was the right one," Mr Burns added.
He believes that the large number of property sales that have happened in Dubai Marina is testament to the fact that our firm has made a sound decision in choosing the location to build our two new hotels.
Mr Burns said his firm is "delighted" to now have two prime real estate sites within the thriving area, especially considering that higher volumes of transactions and stable rents mean Dubai Marina will continue to outperform other locations in the emirate.
The first development - Wyndham Dubai Marina - is approaching completion, but is already proving to be a hit, leading the firm to embark on another project opposite the Dubai Marina Yacht Club.
"We have no doubt Dubai Marina's status as one of the city's most exciting and popular real estate precincts will help drive the success of our two developments," Mr Burns continued.
We currently boast an enviable portfolio of hotels and hotel apartments in sought-after precincts, such as Dubai Sports City and TECOM. The two new sites will strengthen our reputation as one of the emirate's, if not the world's, most prestigious property developers.