The Essential Guide: Palm Jumeirah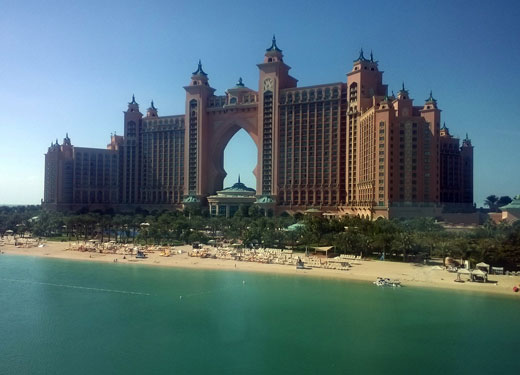 Check out our essential guide to Dubai's iconic offshore island district
OVERVIEW: The world's largest man-made island is also a global icon that encapsulates Dubai's relentless ambition to achieve the seemingly impossible. Stretching 5km into the Arabian Gulf, the Palm took six years to build at a cost of $12 billion. The finished product covers an area of 560 hectares, which is equivalent in size to 600 football pitches.
A GLOBAL ICON:The Palm Jumeirah's 17 man-made fronds house around 1,500 beachfront villas, while more than 6,000 luxury apartments are located on the island's main trunk. The outer breakwall protects the Palm's crescent, which is home to the vast majority of the island's luxury hotels, including the world-famous Atlantis, The Palm. The island boasts some of Dubai's best transport infrastructure, including its own dedicated monorail service – the first in the Middle East – which ferries passengers along the length of the trunk with various stations along the way. Living or vacationing on the Palm is a unique experience: in summer, the island's ambient temperature is up to five degrees cooler than the mainland, while the air quality is better year-round thanks to the prevailing onshore winds.
The Palm is also home to many of Dubai's best restaurants, bars and leisure attractions, making it a popular destination among tourists and residents alike.
Top attractions include Atlantis' Aquaventure Waterpark, where guests can swim with dolphins and ride water slides through shark-filled lagoons, while the upcoming $340 million Nakheel Mall and $220 million The Pointe waterfront dining and entertainment destination, which will feature more than 100 restaurants and retail outlets, will expand the island's appeal even further.
PROPERTY PIPELINE: There are more than a dozen major projects currently underway on the Palm, split evenly between residential and hotel-resort properties. Major hotels under development include The Royal Atlantis, situated adjacent to Atlantis The Palm, and Palm 360, a twin tower development that will rise to a height of 260 metres and boast the world's largest sky pool, that will connect the two towers 170 metres above the ground.
HOT PROPERTY: Thanks to its reputation as one of the modern wonders of the world, Palm Jumeirah remains one of Dubai's most popular property markets. The island ranked second in the list of hottest destinations for villa investors in Bayut's Q3, 2018 market report, with average prices ranging from AED10 million to 15.9 million ($2.72m-$4.33m), and seventh in the list of most popular destinations for apartment investors. Palm Jumeirah's reputation as one of Dubai's premier tourism destinations also makes it a magnet for international hotel investors.
NEED TO KNOW
LOCATION: Arabian Gulf
TOTAL AREA: 5.72 sq kilometres
PRECINCT BREAKDOWN: Commercial 20%; Hotel 40%; Residential 40%
PROJECTED POPULATION: 125,000
TRANSPORT CONNECTIONS: Palm Jumeirah Monorail. Dubai Tram linking Al Sufouh and Dubai Marina. 20 minute drive to Dubai World Central and 25 minutes' drive to Dubai International Airport.