The Essential Guide: Business Bay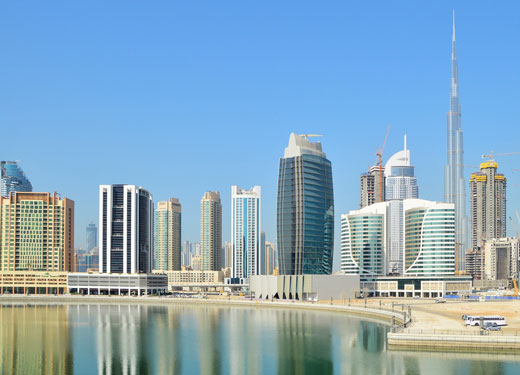 Check out our essential guide to this exciting up-and-coming district of Dubai
OVERVIEW: Launched in 2003, Business Bay now ranks as one of Dubai's most exciting central business districts and hospitality precincts, characterised by unique and imposing architecture, an unbeatable location, and easy access to Dubai's many attractions. Situated between Dubai Canal and Downtown Dubai, Business Bay provides easy access to the city's metro network and main arterial roads. It is also located less than 10 minutes' drive from Dubai International Airport.
THE PLACE TO BE SEEN: Despite being one of Dubai's newest districts, Business Bay is already recognised as one of the city's hippest areas to be and be seen. Ranking fifth in Lonely Planet's guide to the world's top 10 "coolest neighbourhoods to visit", Business Bay is gaining quite the reputation for its ideal mix of affordable, high-quality accommodation, world-class hotels, restaurants, bars and desirable waterside living.
"Bordered by glitzy Downtown Dubai to the north and intersected by Dubai Canal, there's a 12km-long promenade for strolling, while ferries cruise south to Dubai Marina and north to the Al Fahidi Historic District," Lonely Planet notes in its review of the district. "Things will only improve over the next few years as parks, playgrounds, marinas, hotels, cafés and boutiques pop up along the canal. Away from the water, Bay Avenue is the community's buzzing heart, with casual restaurants, a pleasant park and weekly farmers' market during the cooler winter months."
One of the upcoming highlights of the precinct is Marasi Business Bay, which is a AED1bn mixed-use development that will built along a 12km stretch of the Dubai Canal from Business Bay to Sheikh Zayed Road.
The development will feature five marinas, a residential community including floating homes, waterfront restaurants and retail outlets. The project is scheduled for completion in 2023.
PROPERTY PIPELINE: According to data published by the Property Monitor Suply Tracker, around 2,000 new apartments and 1,000 hotel rooms are expected to join the existing inventory in Business Bay.
THE FIRST GROUP'S UPCOMING DEVELOPMENTS: The First Group is currently developing three landmark properties in Business Bay.
The One Hotel at Business Bay (will be operating as Millennium Place Business Bay): This spectacular 492-room, four-star hotel will be managed by highly respected international operator Millennium & Copthorne. Millennium Place is a contemporary lifestyle hotel concept targeting modern travellers who demand affordable, yet high-quality upscale accommodation.
Sky Bay Hotel Business Bay (will be operating as Wyndham Garden Business Bay): Sky Bay will set new standards for quality and affordability in Dubai's booming upper mid-scale hotel market. Spanning 16 floors, the stylish 437-suite hotel will boast a range of high-quality amenities, including a gourmet restaurant and café, fully equipped business centre, concierge and tour and activity booking services. State-of-the-art fitness and leisure facilities will include a fully equipped gymnasium, steam rooms and outdoor swimming pool with sundeck.
Dolphin Tower at Business Bay: Overlooking Dubai Canal, this stunning 330-room, four-star hotel will boast fantastic views across the waterway and Downtown Dubai. The hotel will be equipped with a range of modern, guest-friendly amenities that will appeal to business and leisure travellers, including a waterfront, gourmet restaurant.
HOT PROPERTY: Business Bay proved the most popular location for property investors in the first-half of 2018, with 1,934 property transactions recorded worth AED4.2 billion. Business Bay edged out Dubai Marina with 1,445 transactions worth AED2.9 billion, followed by Al Merkadh with 1,262 transactions valued at AED2.1 billion. 
NEED TO KNOW: BUSINESS BAY
LOCATION: Adjacent to Downtown Dubai and Dubai Canal
TOTAL AREA: 4,360,000 sq metres
PRECINCT BREAKDOWN: Commercial 18.5%; Mixed-use 59.4%; Residential 22.1%
PLANNED BUILDINGS: 230 towers
PROJECTED POPULATION: 300,000
TRANSPORT CONNECTIONS: Dubai Metro Red Line. Al Khail Road (10 minutes' drive from Dubai International Airport).