The Emirates success story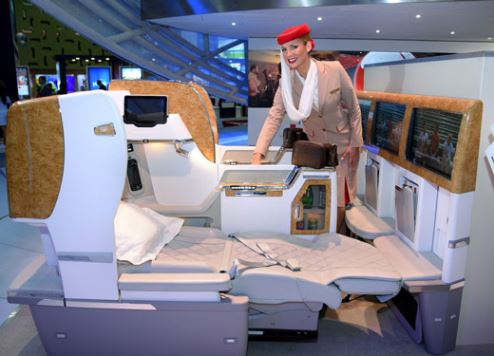 How the fast-paced growth of one of the world's leading airlines is fuelling the development and popularity of its home city, Dubai
 Earlier this month, the Emirates Group announced its 28th consecutive year of profit and steady business expansion.
The Dubai-based aviation group ended the financial year (to 31 March, 2016) with record profits of AED8.2 billion (US$2.2 billion), up 50 percent year on year, despite global economic and political challenges.
Emirates Airline's total passenger and cargo capacity reached 56.4 billion ATKMs (Available Tonne Kilometres), cementing its position as the world's largest international airline.
The carrier increased its capacity by 11 percent year-on-year and received 29 new aircraft, its highest number during a financial year, including 16 A380s and 12 Boeing 777-300ERs, bringing its total fleet count to 251 at the end of March.
New aircraft deliveries allowed Emirates to launch eight new passenger destinations – Bali, Bologna, Cebu and Clark in the Philippines, Istanbul, Mashad, Multan and Orlando – while it added services and capacity to 34 cities on its existing route network of more than 150 destinations.
The airline now serves 80 cities, from key Middle East hubs such as Riyadh and Jeddah, to commercial centres like Mumbai and New Delhi in India, Lagos and Abuja in Nigeria, and London and Moscow in Europe.
Emirates' rapid growth has reflected that of Dubai's. In the 2015-2016 financial year, the carrier flew 51.9 million passengers, 3.7 million more than the previous year.
It expects to fly five million more passengers by the end of 2016 and by 2020, anticipates flying at least 70 million passengers annually.
Meticulously-planned fleet expansion will help facilitate this growth.
Emirates already operates the world's largest fleet of A380s, with 75 in service and a further 65 on firm order, 33 of which will be delivered by the end of 2017, along with 24 new Boeing 777 aircraft.
In 2016, the airline is launching services to cities including Yinchuan and Zhengzhou in China, Yangon in Myanmar and Hanoi, Vietnam.
Each new flight added to its network, whether a new route or an additional service, "exponentially expands the flight combinations between cities that it can offer its customers", while simultaneously bringing more visitors through and to Dubai, says Emirates Group chairman, His Highness Sheikh Ahmed bin Saeed Al Maktoum.
A steady surge in international passenger traffic, coupled with a significant capacity expansion drive at Dubai's two airports, will see the aviation sector's contribution to the emirate's economy/GDP increase from 27 percent to at least 35 percent over the next five years, he adds.
In 2015, Dubai International (DXB) retained its position as the world's number one hub for international passengers, registering annual traffic of just over 78 million. Emirates and fellow Dubai-based carrier, flydubai, added 12 new passenger destinations to the list of the routes DXB serves.
The two airlines played a crucial role driving record tourism numbers to the emirate, which topped 14.2 million in 2015, up 7.5 percent year-on-year, Dubai Tourism has revealed.
Emirates works hard to earn the loyalty of its passengers and to win over new customers by continually investing in new products, services and technology.
Last year the airline invested $22 million to install and operate in-flight connectivity systems across its fleet, which is now 70 percent Wi-Fi enabled.
The carrier also rolled out its latest in-flight entertainment system (IFE) on newly delivered Boeing 777-300ERs and A380s, featuring the industry's largest screens in First and Economy Class and three times the media storage.
In March 2016, Emirates unveiled its new Business Class seat, which will make its debut on new Boeing 777-300ER aircraft delivered from November 2016.
The seat takes comfort to new heights with a new seat pitch of 72 inches, which can be moved to a fully flat sleeping position, as well as a personal mini-bar, ergonomically-designed headrest, and one of the industry's largest personal TV screens at 23 inches, with the ability to stream personal mobile content.
The design of the new Business Class seat was inspired by the interior of a modern sports car, with prominent diamond-stitch patterns embossed in light-grey leather.
Since 2004, Emirates has also invested more than $352 million to open new lounges and refurbish existing ones, with the premium lounges at its home, Dubai International, recently receiving a facelift.
The airline also continues to nurture its loyal customers through its award-winning Skywards programme, which offers benefits across four tiers – Blue, Silver, Gold and Platinum.
Privileges for Gold members, for example, include lounge access for the passenger and their guests throughout the Emirates network, a guaranteed seat on all Emirates flights, priority baggage delivery, 50 percent bonus Skywards Miles on all flights, plus the opportunity to earn miles and book rewards with the airline's partners. At the airport, Gold members can buy instant upgrades with Skywards Miles and at Dubai International, use the fast and efficient e-gate service.
The loyalty programme also offers priority check-in and extra luggage allowances.
Given Emirates' commitment to delivering best-in-class products and services in the air and on the ground, staying attuned to its customers' needs, it's no wonder the Dubai-based carrier maintained its position as the world's most valuable airline brand in 2016.
This year, its estimated brand value grew to $7.7 billion, up 17 percent from the year before, according to the 2016 Brand Finance Global 500 report, an achievement it attributes to being "relevant, innovative and inspiring".