The Dubai Opera House will be ready by 2016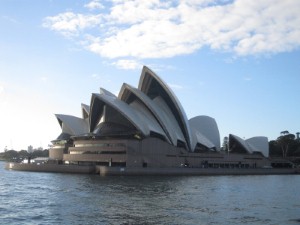 Construction on the Dubai Opera House - a 2,000 seat multi-purpose venue - will be completed in just two years time, according to main contractor behind the development, Contractor Consolidated Contractors Company (CCC).
The new building will rival the world-famous Sydney Opera House for its grandiosity. The Australian venue attracts 8.2 million people from around the world every year. In addition, 300,000 tourists visit the venue as part of guided tours as the building is one of the country's most recognisable landmarks.
As well as being a hit with tourists, the Sydney Opera House is one of the world's most celebrated venues for musical performances and has become a symbol of Australia.
Once construction is complete, the Dubai Opera House could become its Australian counterpart's biggest rival and could potentially entice some of the millions who visit the venue to the emirate instead.
The new venue is being built as part of the plans for The Opera District in Downtown Dubai and will be available for operas, plays, concerts, art exhibitions, orchestras, films, sporting events and other seasonal programmes.
CCC has already broken ground on the project and expects all work to be completed by no later than 2016.
Nazih Abdul Kader, executive vice president of operations at contractors, said: "It's a really challenging but exciting project, as it is in a really prime location, and we're moving in the right direction. The work has already begun and the concrete works will happen soon.'
He believes many other infrastructure projects will begin in the lead up to the World Expo 2020. Mr Kader added: "I think Dubai is approaching another boom. The 2020 event will bring a renewed infrastructure market as it builds out towards Jebel Ali, for example – Dubai is going to become a bigger place."
According to the vice president, Dubai is entering a new and exciting phase that will come with challenges, but will keep the emirate at the forefront of the world's mind when discussing progression.