The culture vulture's guide to Dubai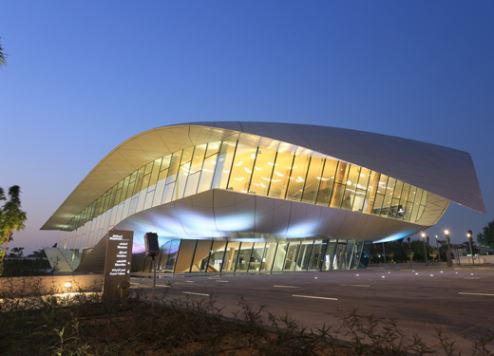 From modern art galleries to souqs, food trails and museums, Dubai is home to attractions that showcase the best of Arabian culture and heritage
Best known for its impressive skyline and plethora of bucket-list activities, Dubai is also home to a vast range of authentic experiences that showcase the best of Arab art, culture and society.
Whether it's taking in the city's vast history, admiring contemporary art, or enjoying a culinary adventure – head off the beaten track and experience the true pulse of the city with these exciting activities, as recommended by the people who live there.
Vilma Jurkute, director, Alserkal Avenue

About Alserkal Avenue: Five years ago, Alserkal Avenue had six art concepts; today, it is the heartbeat of Dubai's art scene thanks to an expansion project led by founder Abdelmonem Bin Eisa Alserkal. It's now home to more than 60 art, design and creative spaces, including foundations, private collections and community concepts.
Vilma's top cultural picks:
Al Fahidi Historical Neighbourhood "A visit to Al Fahidi Historical Neighbourhood is a great opportunity to get acquainted with Dubai's old way of life, reflected in the traditional buildings featuring wind towers (Barajeel) built out of stone, gypsum, teak, sandal wood, fronds and palm wood. Wander through the narrow alleys, pathways and public squares, and discover the beauty of old Dubai."
Location: Bur Dubai, next to the Creek
Etihad Museum "The 2.5-hectare Etihad Museum tells the story of the founding of the United Arab Emirates, and is fittingly located next to Union House, where the signing of the treaty establishing the UAE took place in 1971. Comprising eight permanent pavilions covering the Union's key moments, a walk through the museum brings the nation's history to life. From a documentary about the UAE's past, to an interactive map and timeline illustrating the area before the formation, the museum provides insight into the complexities of the unification process and the creation of the constitution."
Location: 2nd of December Street, Jumeira 1
Arva Ahmed, Founder, Frying Pan Adventures
About Frying Pan Adventures: Frying Pan Adventures bring Dubai's culture to life through thoughtfully curated gastronomic trails of Old Dubai, exploring eateries that are off-the-beaten path, with generous helpings of stories and trivia about the city.

Arva's top cultural picks:
Sheikh Mohammed Centre for Cultural Understanding "Gain a greater appreciation of Dubai's culture and customs at the Sheikh Mohammed Centre for Cultural Understanding (SMCCU), located in a beautifully-restored wind tower house in Al Fahidi Historical Neighbourhood in Bur Dubai. Sign up for a traditional Emirati breakfast, lunch, or dinner and you'll start with a guided walking tour of the historic neighbourhood. Then take a seat on Bedouin-style carpets and pillows and enjoy a selection of traditional dishes while your local host answers questions about life in the emirate."
Location: Al Musalla Road, Al Fahidi Historical Neighbourhood, Bur Dubai

Naif Souk "This is one of the city's oldest souks, which once was a camel market. Today you'll find more than 100 shops and stalls selling almost everything, including textiles, leather goods, electronics and souvenirs. The souk is particularly well known for its inexpensive abayas, which are popular with local women. Beyond finding a bargain or two, the souk is worth a visit just to experience Dubai's traditional culture. Be sure to visit at night, when the area comes alive."
Location: Al Sabkha Road, Deira
Ritchie Plaza, chief concierge, Atlantis, The Palm
To Ritchie, Dubai's culture is "unique and vivacious – the city is always bustling and has something to touch every traveller, to both enjoy at leisure and learn a little about the city's history at the same time".

Richie's top cultural picks:
Camel Racing "Camel racing is one of the traditional sports of the UAE and is a fantastic free activity that shines the spotlight on a sport rooted in the country's culture. Taking place in certain months of the year, racing usually begins in the morning and late afternoon and takes place at tracks in the desert. Guests can watch hundreds of highly trained camels from all over the Middle East compete to win their owners impressive prizes."
Location: Al Marmoom Camel Racetrack, Dubai-Al Ain Road

Hatta Heritage Village "Straddling the border of Oman and Dubai, Hatta Heritage Village is not only a cultural haven but also a fantastic free day out. Nestled in the jaw-dropping heart of the Hatta Mountains about 100kms from the city, Hatta Village is in the centre of the town and offers unique insights into traditional mountain life in the UAE, dating back 3,000 years. It has around 30 buildings, as well as a fresh water canal and archaeological cemetery, and contains original prototypes, weapons, furnishings, models, documents and sculptures from the region."
Location: Hatta Heritage Village, Hatta
Wemmy De Maaker, managing director, Mawaheb from Beautiful People
About Mawaheb from Beautiful People: It's an art studio for adults with special needs. Located in Al Fahidi Historical Neighbourhood, the programme enables those with special needs to enhance their skills and develop their self confidence in a relaxed, safe environment.

Wemmy's top cultural picks:
SIKKA Art Fair "SIKKA Art Fair is an annual event that showcases feature works of UAE-based artists, representing numerous nations and encouraging them to share their talent with the wider community, further fostering a culture of art in Dubai. The fair showcases work spanning an array of mediums including audio and video installations, multi-disciplinary initiatives, artistic installations, music performances and visual arts, such as painting, photography and sculptures." 
Location: Al Fahidi Historical Neighbourhood, Bur Dubai

Al Qudra Lakes "Spend a quiet day in nature at Al Qudra, a series of manmade lakes spread across Dubai's Saih Al Salam desert landscape. Visitors can pack a picnic, stop by after a leisurely ride around Al Qudra Cycling Track, or even plan an overnight camping adventure. It's a great way to see Dubai's beautiful desert sunset with a waterfront view, and offers the chance to spot some local wildlife such as the desert fox, oryx and the 170 bird species that live around the lakes, including flamingos and swans."
Location: Al Qudra Lakes, Seih Al Salam desert
Georgina Trigg, founder, Georges of Dubai
About Georges of Dubai: Georges of Dubai is a small lifestyle store tucked away in 'The Courtyard' in Al Quoz, featuring everything from tableware to jewellery. Pieces from Georgina's homeland, Australia, are mixed in with works by locally-based designers from the region and beyond.

Georgina's top cultural picks:
Al Satwa "This area of Dubai has the most fabulous rugs, ribbon, plants, paint and anything else you could ever need. Feel like a part of one of the undercurrents of the city as you walk the streets, and don't miss the opportunity to try out some of the best Middle Eastern flatbread in the city."
Location: Al Satwa, around Al Diyafah Street; Sun Bakery, Al Satwa Road

XVA Art Hotel "Contemporary Dubai meets Old Dubai at the XVA Art Hotel, which meshes contemporary art culture and traditional hospitality. A must-try is the hotel's vegetarian food with its Arabic and Indian influences."
Location: Al Fahidi Historical Neighbourhood, Bur Dubai