Technology 'the way forward for Expo 2020'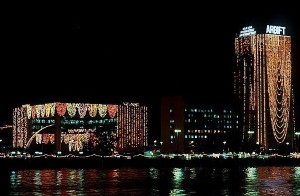 Technology will play a key role in Dubai's preparations before hosting Expo 2020, according to one expert.
Senior vice-president for Oracle East central Europe, Middle East and Africa Alfonso di Lanni believes the occasion will need a strong focus on modern innovations.
World Expos have a history of showcasing new technology, with broadcast television, diesel engines and X-ray machines all making debut appearances at previous events. In 2020, however, all eyes will be on Dubai to keep up this trend.
Mr Lanni said: 'A massive event of this scale that is expecting to attract 25 million visitors will require huge technological investment to accommodate so many participants, not to mention the network demands as they share their experiences of Expo 2020.'
The emirate has already taken many steps in this regard, updating the city with modern features as part of Dubai Municipality's Smart City initiative. This includes the introduction of wider internet access across the sheikhdom, as well as freei Wi-Fi in certain locations for residents.
Its push for modern services even extends to the local taxi services under the Roads and Transport Authority, which has introduced touch screen services in the cars, as well as a mobile application capable of helping users find the nearest taxi.
All of these features will help the various guests visiting the emirate and will become especially useful during the Expo 2020, better enabling the large wave of attendees expected during the six months it is held.
Duba's Smart City programme also recently won the Arab Creativity award from the Arab Thought Foundation, according to Zawya.
The organisation's chairman Prince Bandar Bin Khaled Al Faisal said the project 'represents remarkable achievements in the utilisation of electronic systems that will inspire overall development in the Arab countries'.
Of course, Dubai has seven years to prepare for the Expo, but its strong progress will ensure the city will be ready to host the international event when the time comes.