TASTE 10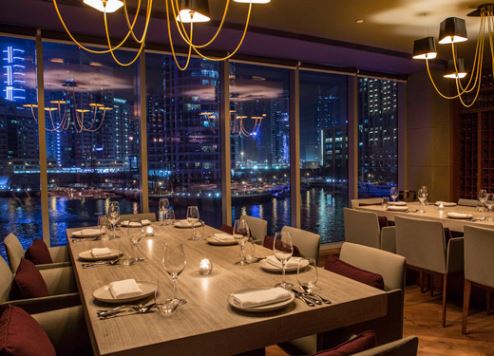 Dubai's restaurant scene is making waves internationally as celebrity and Michelin-star chefs set up shop in the emirate. We take a look at 10 new dining experiences worth checking out
 Marina Social - InterContinental Dubai Marina
Marina Social is Dubai's hottest new restaurant by acclaimed Michelin-starred British chef Jason Atherton. Situated in the InterContinental Dubai Marina, the restaurant celebrates deformalised dining within a relaxed, social atmosphere and offers stunning panoramic views of the waterfront, overlooking the buzzing marina. Innovative menu concepts include 'Feed Me' where guests are served a selection of the chefs' favourite dishes.
 Nus-et - Four Seasons Hotel, Jumeirah
This acclaimed steakhouse restaurant from Turkey is the creation of charismatic butcher and meat specialist Nusret Gökçe, who personally inspects every piece of beef and lamb before it is allowed to be cooked on the grill. Signature dishes include asado ribs, beef spaghetti and grilled meatballs.
J&G Steakhouse - St Regis. Dubai
J&G Steakhouse, which has just opened its doors at the brand new St Regis. Dubai, offers classic entrees reimagined from the greatest hits of cuisine, inspired by Michelin-starred chef Jean-Georges Vongerichten. Diners can choose from the best cuts of meat and seafood, paired with rustic sides, as well as raw bar selections.
Novikov - Sheraton Grand Hotel
The Bulldozer Group has partnered with famous Russian restaurateur Arkadiy Novikov to bring the famed London hotspot to the Middle East. Known in London for its chic clientele, dynamic menu and elegant atmosphere, the concept features the Asian Room, Italian Room and Lounge. It offers an Asian-inspired menu with a strong emphasis on the 'fresh market' concept, whereby guests are invited to select their own fresh produce to be cooked a la minute.
Vanitas - Palazzo Versace Dubai
One of Dubai's most opulent properties to date, the hotly-anticipated Palazzo Versace is home to the city's newest pescetarian and seafood restaurant, Vanitas. This charming and romantic venue is, as you might imagine, elegantly adorned with Versace furniture and interior design touches, with the Dubai Creek its natural backdrop. The emphasis is on authentic Italian seafood dishes, which are delivered with finesse by expert chefs. These Italian flavours are perfected with herbs picked fresh from the hotel's gardens.
Catch - Fairmont Dubai
New York's famous eatery Catch, a brand that's become synonymous with The Big Apple's trendy Meatpacking District, has been recreated at Fairmont Dubai. Catch serves contemporary American seafood in an industrial-inspired setting where the service and atmosphere can best be described as energetic. Menu favourites range from classic sushi rolls to the restaurant's signature crispy whole snapper.
Olea - Kempinski Mall of the Emirates
Olea offers arguably the most authentic Levantine dining experience in town, thanks to its knowledgeable and passionate chefs who adopt traditional cooking methods and present the signature dishes in a dazzling presentation tableside. Delicacies served in this contemporary Arabic restaurant include the El Homos Beiruti of Lebanon and Nayeh (raw meat) selection of Syria, the Sultan Ibrahim of Cyprus and Soft Kunafa of Palestine.
Cove Beach - Jumeirah Beach Hotel
Cove Beach is much more than a stylish restaurant – it's a beach destination. Boasting views of the Arabian Gulf and the Burj Al Arab and lining an unspoiled stretch of soft white sand, this new venue at Jumeirah Beach Hotel is an open laid-back lounge serving authentic Mediterranean Riviera flavours. From Provence to Tuscany, and everywhere in between, Cove Beach takes you on a culinary journey, with signature dishes including grilled seafood and delicious homemade pastas. 
Jean-Georges Dining Room - Four Seasons Hotel, Jumeirah
The JG Dining Room presents the signature menu of globally-acclaimed chef Jean-Georges Vongerichten, best known for his Michelin three-star restaurant in New York. Diners will find a sophisticated and refined culinary setting that's organised around a dramatic installation of hand-blown glass chandeliers that artfully illuminate the space. Unique dishes are influenced by French, American and Asian cuisine, with a focus on fresh local ingredients.
The Black Lion - H Hotel
The Black Lion is Dubai's first proper gastro pub inspired by iconic bars and pubs 'Stateside' to the point where it even offers a 'Lock-in' menu from 11pm to 3am as well as an all-day original American roast and a 'surf 'n turf' special. Classic pub dishes up for grabs at this new venue as well as bar snacks and deli lunches.