Taj Arabia to open in 2017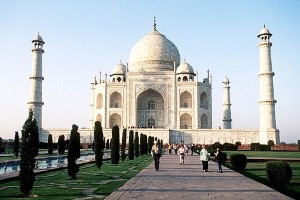 A major new visitor attraction is due to open in Dubai in 2017.
It has been confirmed that the Taj Arabia project, which will see a 20-storey glass structure based on India's Taj Mahal built in the emirate, will be finished within three years.
The site will contain a five-star hotel with 350 rooms and is one of the many developments getting underway in preparation for the 2020 World Expo and the 25 million visitors it is set to bring.
Taj Arabia will also feature a market, several wedding boutiques and 290 residential apartments.
Arun Mehra, director of the company behind the project - Link Global, told Emirates24|7 the development was originally scheduled to be opened to the public in 2016, but delays in receiving the necessary approvals have set things back by a year.
He stated: 'This is the first time that a huge glass structure is being built for a hotel in Dubai, which will have a banquet hall, retail and a nightclub at the basement.
'We have worked with the municipality to incorporate a few changes and are optimistic that the project will be completed by 2016-end and open to public by early 2017.'
Taj Arabia will serve as the central attraction of the 210,000 sq ft Mughal Gardens complex. Mr Mehra said it will contain a purpose-built wedding hall, as well as a promenade featuring eateries and showrooms displaying global brands.
Both of these developments will be part of the Falconcity of Wonders project, which was started in 2005 and aims to recreate some of the world's most iconic structures past and present with life-size replicas.
As well as the Taj Arabia, it will contain its own version of the Egyptian Pyramids, Eiffel Tower, Leaning Tower of Pisa, Hanging Gardens of Babylon, Great Wall of China and Town of Venice.
Also due to be constructed at the site are residential villas, a shopping mall and a number of high-rise towers.