Supperclub franchise comes to Dubai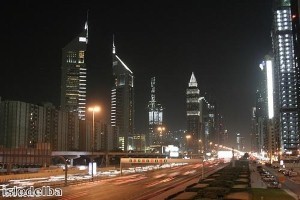 Dubai's status as one of the trendiest cities on earth has been enhanced by the launch of the famous Supperclub in the emirate.
The exclusive franchise is renowned for its fine dining, top quality entertainment and swanky decor and the chain of clubs are a firm favourite among A-list celebrities.
Supperclub Dubai opens its doors tonight (July 5th) and becomes the company's sixth establishment around the world.
The venue has proven to be hugely successful in Los Angeles, San Francisco, Amsterdam, London and Istanbul and bosses clearly think Dubai is the perfect place to open another branch.
It is fair to say the sheikhdom already has a reputation for being a playground for the rich and famous, so this latest establishment should prove to be popular.
Founder and partner of Supperclub for the Middle East and North Africa region Yassin Matbouly said: 'When we decided to bring the globally-renowned Supperclub brand to Dubai, our goal was to reinvent the landscape and concept of the luxury gastronomy scene in the city.
'Supperclub Dubai raises the benchmarks of the hospitality sector and provides the ultimate dining and entertainment experience the city has ever seen.'
This is certainly a bold claim, but is hardly surprising from a firm that has had so much success over the past 20 years.
Bert Van der Leden - the man who came up with the Supperclub franchise concept - said the Dubai venue will follow the lead of the other clubs across the planet by becoming a hub for art and music.
Supperclub Dubai can be found at Jumeirah Zabeel Saray, which is based on the swanky Palm Jumeirah - one of the city's prime spots.
The club will cover two floors and will stage an array of theme nights in the coming months.
A number of top DJs are expected to perform at the venue and a number of artists will put on live shows. The Supperclub's resident DJs have already produced 18 CDs, which have been bought by hundreds of thousands of people around the world.