SPOTLIGHT ON DUBAI MARINA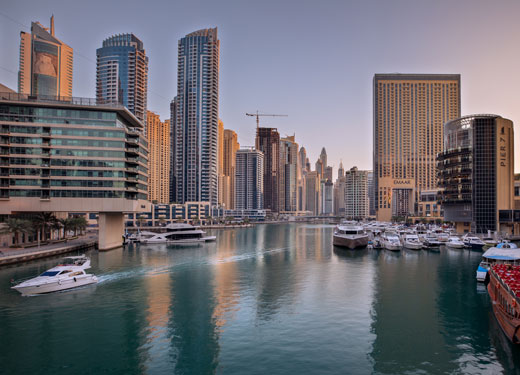 The world's largest man-made marina is home to four of The First Group's most exciting projects
OVERVIEW: One of New Dubai's most popular districts, Dubai Marina boasts world-class tourism attractions, a vibrant restaurant and nightlife scene, and a buzzing retail precinct.
Renowned as the world's largest man-made marina, the development is home to more than 120,000 residents and is a haven for visitors to the city, thanks to its futuristic vibe, imposing skyline, ultra-modern amenities, stunning sea views and beautiful 7km-long waterway, which is the favoured port for the city's most expensive and exclusive leisure craft.
The Marina's combination of attractions and amenities make it a must-visit destination. The adjacent Jumeirah Beach is the perfect place to soak up the sun or take a dip in the azure waters of the Arabian Gulf, while the 1.6km-long The Walk – with its dozens of restaurants, cafes and boutiques – is one of Dubai's most popular weekend hangouts.
The recently opened Bluewaters Island, with its remarkable Ain Dubai ferris wheel – the world's largest – is also within walking distance of the Marina.
THE HOME OF CIEL: Dubai Marina is home to four of The First Group's landmark hotel developments, including Ciel– it's latest and most ambitious award-winning project that will become the world's tallest hotel when completed.
Situated in the heart of Dubai Marina overlooking the Arabian Gulf, Ciel is designed by renowned architectural firm, NORR. It will reach a height of 345 metres when completed and will house 1,209 luxury suites and serviced residences, along with a stellar range of guest amenities.
Featuring contemporary interiors and a remarkable glass observation deck providing stunning 360-degree vistas across Dubai Marina, The Palm Jumeirah and the Arabian Gulf, Ciel is set to become one of this iconic precinct's great landmarks.
EXISTING DEVELOPMENTS
Wyndham Dubai Marina: This four-star, 497-guestroom property is managed by Wyndham Hotels & Resorts – the world's largest hotel management firm. It ranks among the most popular upscale hotel developments in the Marina, and offers a host of top-quality amenities, including two F&B outlets; a spa, gym and swimming pool; and meeting and conference events space.
Millennium Place Marina: Featuring 457 luxury guestrooms and suites, cutting-edge dining options including the world's first MasterChef the TV Experience restaurant, and a comprehensive array of guest amenities and leisure facilities, the four-star Millennium Place Marinais The First Group's second property to open in Dubai Marina, following the debut of Wyndham Dubai Marina in 2016.
Al Dar Tower: This 40-storey tower features 260 units, comprising studios, 1-, 2- and 3-bedroom apartments and 4-bedroom duplex penthouses, all equipped with luxury amenities including a fully-equipped kitchen, dining area, washing machine and complimentary high-speed Wi-Fi services.Overlooking the Arabian Gulf and with views across to Palm Jumeirah, the building is well-located and popular among business and leisure travellers visiting Dubai.
INVESTMENT TIPS: NEED TO KNOW
Dubai Marina is home to 10 distinct residential districts.
The precinct houses more than 150 towers with residencies mixing with serviced apartments and mid- to upscale hotel developments.
It is the largest residential freehold development in Dubai in terms of the number of buildings and overall population.
It is also the city's best-connected development in terms of transportation, being home to two Metro stations, a bus network, the Dubai Tram, which links with Al Sufouh, and ferry services, which offer water connections to Business Bay via Dubai Canal.
As one of Dubai's most established modern developments, Dubai Marina has a limited number of plots available for construction. Ciel represents one of the last significant investment opportunities in Dubai Marina.
According to data published by property analyst lookup.ae, the Marina was home to 148 ready or occupied buildings in February 2016, with 23 buildings under construction at that time, equating to 28,500 ready apartments and a pipeline of 4,800 units under construction.
Dubai Marina was the second most-popular location for property investment in Dubai in the first nine months of 2018.
NEED TO KNOW
YEAR OF LAUNCH: 2003
LOCATION: New Dubai (Interchange 5) overlooking the Arabian Gulf
TOTAL AREA: 4,645,000 sq metres
PLANNED BUILDINGS: 175 towers
EST. POPULATION: 120,000
TRANSPORT CONNECTIONS: Dubai Metro Red Line (two Metro stations); public bus services; the Dubai Tram, providing services to Dubai Media City/Al Sufouh; ferry services, offering connections to Business Bay via Dubai Canal; direct access to Sheikh Zayed Road (15 minutes' drive to Al Maktoum Airport; 20 minutes' drive to Dubai International Airport).