Spanish Soccer Schools launched in Dubai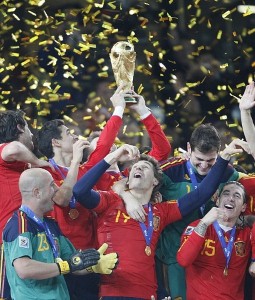 Youngsters living in the UAE will now be able to learn how to play football the Spanish way.
Former Real Madrid defender Michel Salgado has officially launched the Spanish Soccer Schools programme at Dubai Sports City, where children will receive top level coaching.
Mr Salgado - who earned more than 50 caps for Spain during his career - will lead the project and he is excited about the venture.
'I am delighted to have assembled a world-class group of coaches to teach the style of football that has seen Spain's national team win the Fifa World Cup and successive Uefa European championships,' he remarked.
If you are going to learn how to play the beautiful game, it makes sense to emulate the team who have dominated the sport for the last five years or so.
Although German football was flavour of the month in the 2012-13 season with Borussia Dortmund and Bayern Munich both reaching the final of the Uefa Champions League, there is no doubt that Spain are still the team to beat on the international stage heading into next year's World Cup.
Dubai Sports City Partner Mr Abdulrahman Falaknaz thinks the local youngsters will benefit from some of the best facilities around.
'The launch of the Spanish Soccer Schools led by Michel Salgado is the latest part of our vision in creating the world's first integrated sports city,' he commented.
Mr Falaknaz was keen to stress this is not the first top-class sporting complex to spring up in the emirate. He highlighted the ICC Academy, the Els Club, the Dubai International Stadium and the Victory Heights community as some other examples.
Dubai Sports City general manager of sports business Maqbul Dudhia said the city now has the best indoor football arena in the region and the sheikhdom can continue to host international sporting events. Dubai Sports City alone has already staged boxing, touch rugby and football this summer and it is now in an even better position to lay on successful competitions.