Selena Gomez confirmed for Dubai Music Week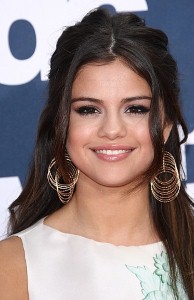 Selena Gomez is the latest high-profile star to confirm her attendance at Dubai Music Week.
Taking place at the Dubai World Trade Centre, the concert will go ahead between September 24th and 29th and is the first industry music trade show in the Middle East and North Africa.
According to Gulf News, Gomez - who is only 21 years old - will be one of the headline acts during the event.
Hamad Bin Mejren, executive director of business tourism at Dubai Tourism and Commerce Marketing, was understandably very happy to land such a popular performer.
'Selena Gomez is a great addition to the line-up for Dubai Music Week,' he was quoted as saying.
'The calibre of artists who are performing in the first Dubai Music Week is a testament to Dubai's position as the leading entertainment and music hub in the region.'
In August, organisers of the musical extravaganza confirmed that Black Eyed Peas star Will.i.am and Timbaland were also being lined up to perform.
Both artists have had a huge amount of success on a global scale in recent years and it is a major coup for Dubai to attract them to the emirate.
As well as the exciting concerts, the event will include a number of seminars hosted by celebrities and several conferences. It also gives the world's record labels a chance to exhibit their latest offerings to a huge audience.
Organisers believe Dubai is the perfect place to host such an important gathering, as there are currently 200 different nationalities living in the sheikhdom, making it a cultural melting pot.
The city has also earned a reputation for being a business hub, with some of the largest corporations on the planet looking to move into what is a rapidly-growing market.
Additionally, the emirate has quickly established itself as a musical hotspot, with some of the most revered acts on the planet - including Justin Bieber, Snoop Dogg and 50 Cent - putting on live shows in the past few years.