Security at Dubai airports 'to be reduced to seconds'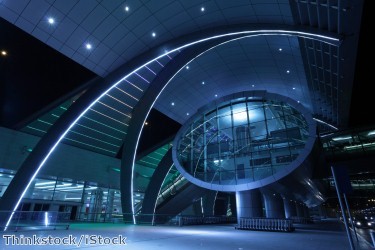 Tourists and travellers visiting Dubai will soon be able to pass through airport security in just seconds and with virtually no human interactions.
Smart gates that read electric trolleys and are able to scan passports to allow people to clear immigration control are to be fitted, while a smartphone app will help meet any other needs they may have.
The scheme - called UAE Vision - has been launched by the Ministry of Interior, the General Directorate of Residency and Foreigners Affairs Dubai. It is sophisticated and intelligent enough to gather the required information from travellers to ensure hassle-free passage into the emirate.
At the opening of the March 11th Borders Conference in Dubai, Thani Alzaffin, director general of emaratech, said: "It will make a great advancement in passenger processing for both entry and exits.
"It is the core system for the UAE immigration and the backbone of every information flow, from permits issuance on arrival, pre-issuance of permits and border clearance."
The technology will be tried out by passengers landing at Dubai International Airport's Terminal 2 this weekend.
Mr Alzaffin explained that the information gleaned by the trolleys would be taken from a unified database called the Advanced Passenger Information (API), which records all security risks before passengers are allowed to board their planes.
Leila Hareb, assistant director general of strategy and international affairs at the General Civil Aviation Authority, added that the API would be a great benefit to security, customs, airports and ports.
Information is captured from passports, reservation systems and online bookings, which is then fed into the API system. This data can be used by immigration, customs, police, ground handlers and airlines, Ms Hareb explained.
In addition to UAE Vision, a scheme called Eyen is set to be launched to simplify border control systems, meaning travellers can use just their passports for verification. It will be rolled out this year and will be used on the smart gates by 2020.