'Secondary Dubai locations' are performing well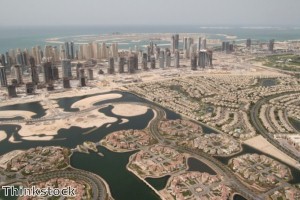 The remarkable recovery of Dubai's real estate sector in the past 12 months has largely been driven by the incredible demand for high-end properties.
Apartments and villas in places like the Palm Jumeirah and Dubai Marina have attracted a phenomenal amount of interest from buyers of late, as landlords realise wealthy tenants are willing to pay significant sums of money to live in the most desirable areas of the emirate.
A new study by CBRE showed that Dubai Marina once again led the way in the first half of 2013, with 3,748 transactions worth more than AED 6.6 billion (£1.17 billion) being completed during the six-month period.
Head of research and consultancy at the firm Matthew Green remarked: 'The established residential locations, such as Dubai Marina, Emirates Living, Palm Jumeirah and Downtown Dubai, continued to dominate the sales market, with the majority of all transactions both in volume and sales terms.'
However, the report also stated that 'secondary locations' across Dubai are starting to perform really well too.
Indeed, investors have noticed many tenants are now scouring slightly less prestigious parts of the city for accommodation that represents better value for money. As such, prices in these places are now rising.
'The comparative affordability of projects such as Jumeirah Village and Dubai Sports City have made them popular cost-sensitive options for tenants and that has subsequently driven up rents,' the report stated.
Unsurprisingly, the strong demand for property has given Dubai's gross domestic product (GDP) figures a significant boost.
Last week, the Dubai Economic Council revealed the emirate's economy expanded by 4.1 per cent in the first quarter of 2013, which was helped considerably by the fact apartment prices rose by 25 per cent during the three-month period when compared with the corresponding months in 2012.
It will certainly be interesting to see if secondary real estate can continue to close the gap on the best-selling properties in the sheikhdom in the second half of the year and how this impacts the city's GDP.