Salman Khan chooses Dubai for film premiere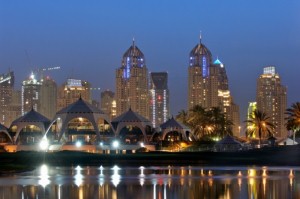 Bollywood star Salman Khan has opted to hold the world premiere of his new movie in Dubai, which is sure to result in huge crowds heading to the city to catch a glimpse of the actor.
Khan will be on the red carpet outside the Meydan Imax at 8pm next Wednesday (January 22nd), reports Emirates 24/7.
Organisers Essar Events confirmed he will appear in order to launch the new movie Jai Ho. He will arrive alongside leading lady Daisy Shah and director Sohail Khan at the event.
The director is the thespian's brother and Jai Ho tells an incredible story of an ordinary man - played by Salman Khan - who seeks to fight injustice in society.
'It's going to be a grand premiere which will give Salman Khan fans a chance to see him in person,' Essar Events' managing director Rashid Saeed told Gulf News.
Such a premiere also adds weight to the idea that Dubai is becoming a new hub for the film world, with many special occasions being held there and plenty of cinema's biggest names visiting. Fans in the Middle East might wish to take the opportunity to speak to Khan and take photos.
Jai Ho was co-produced by Parvez Khan of Pacific Ventures and he explained the firm enjoys a great relationship with both Salman and Sohail.
'We at Pacific Ventures [are] proud to be associated with a film that has such a strong social message. What makes it special is that several scenes were shot here in this city and we know that these brothers love Dubai a lot,' he stated.
It is believed the Wonderland Theme and Waterpark was used as a setting for some of the action scenes in the movie.
Although people require an invitation if they are to attend the premiere, a special stage is being erected so that fans can get as close as possible to the stars of Jai Ho before they take their seats in the theatre.