RTA launching new ferry and water bus services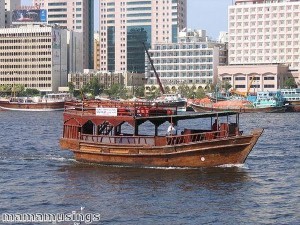 The Roads and Transport Authority (RTA) is going to add new lines to the Dubai Ferry and Water Bus.
Water Bus will receive two services - the first of which will connect Al Seef Station, Bani Yas Station and Dubai Old Souk with a 15-minute frequency - while the second will connect Dubai Marine to stations at Marina Walk, Terrace, Mall and Promenade with a similar time-frame.
As for Dubai Ferry, it will carry passengers between Dubai Marina and Dubai Creek with an hour-long trip serving tea and coffee along the way.
Dubai Marina looks set to benefit the most from these services, which should prove useful for the the tourism and hospitality industry - it is a growing region for this sector with new hotels such as the aptly-named Dubai Marina offering an ideal opportunity to invest.
Acting director of marine transport at the Public Transport Agency Hussain Khansaheb said: 'A journey will start from the Marina featuring a much more tourist-oriented cruise which will pass by the Burj Al Arab and Atlantis Hotels, offering passengers many opportunities to shoot stunning pictures of these iconic tourist landmarks in Dubai in a trip that takes about one hour in both directions.'
The new lines connect to various popular destinations such as the marina and creek, two waterfront locations that receive plenty of attention. Dubai Creek, for instance, is bidding to become a World Heritage Site and is receiving an expansion to extend the waterway itself and eventually turn the city into an artificial island.
These services will begin tomorrow (November 1st) to tie into RTA's Public Transport Day, the fourth such annual event. This allows anyone using their Nol smart card to use public links for free, including the likes of Dubai Metro and the Water Bus.
It will also involve other activities focusing on the related social and health benefits, as well as various competitions showcasing the pride the emirate clearly takes in its modern transport systems.