RTA launches one-day ticket for Dubai Marina waterbus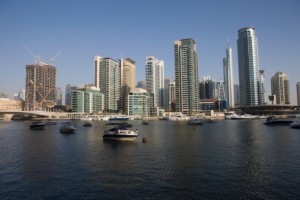 Dubai Marina has become easier to navigate for tourists, with RTA offering a one-day hop-on-hop-off ticket for the water bus.
This option makes exploring the second largest man-made marina in the world even better - meaning the popular tourist attraction could become even more of a draw for overseas visitors.
There are already plenty of different options when it comes to traversing the Marina, from the Dubai Metro, and the soon-to-open Al Sufouh Tramway. However, now tourists will be able to sail around the 2-mile long marina with ease, getting from A to B in a stylish and picturesque way - and on just one ticket!
According to RTA, the waterbus is a "highly advanced and modern water transit service providing luxury, comfort and further destinations to its passengers".
It travels over three different routes, depending on the day of the week - from the Marina Walk to the Marina Terrace, from the Marina Mall to the Promenade, and from the Marina Walk to the Marina Mall.
The new ticket is typically valid for a whole day, enabling numerous hop-on and hop-off rides via four different stations within the Dubai Marina. The ticket can be purchased for 25 dirham, enabling users to easily travel between the two sides of the Marina.
There are a whole host of attractions surrounding the stunning marina - from high-rise apartments and luxurious hotels to the Dubai Marina Mall.
The mall is located right in the centre of Dubai Marina and boasts some 140 retail outlets in an impressive space of 390,000 sq ft, making it one of the emirate's largest shopping malls. As well as a plethora of designer shops, the mall also boasts an entertainment area to keep children entertained and a six-screen Reel Cinema.
Another highlight for tourists at the Dubai Marina is one area with particularly high-rise buildings. This is often known as the tallest block of supertall skyscrapers in the world, as it contains some of the tallest residential towers on earth. One example of this is Princess Tower - the tallest residential buildings in the world.