Rotating tower to alter Dubai's skyline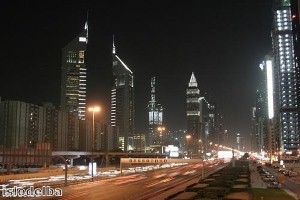 Just when you think you have seen it all in Dubai, property developers decide to take things up a notch.
The emirate is bursting at the seams with innovative buildings - many of which hold world records - but there are no signs to suggest that construction companies are content with how the city's skyline looks just yet.
Even more mind-blowing projects are being granted planning permission and it will be interesting to see how the shiekhdom will look in ten years' time. One initiative that has really got people talking is the 'rotating tower' that has been designed by an Italian architect.
Speaking to English news provider the Daily Mail earlier this month, Dr David Fisher - who owns the Rotating Tower Technology Company - outlined his plans to erect massive skyscrapers in a range of cities around the world.
The first two will be built in Dubai and Moscow and Mr Fisher suggested that the landmark towers could also be constructed in London, New York, Miami, Paris, Rome and Milan in due course.
Incredibly, the high rise buildings will be able to turn 360 degrees within a 90-minute timeframe, so people who secure apartments in the tower will never get bored of the view.
Mr Fisher had drawn up the plans in 2008 and was due to have completed the Dubai version in 2010, but a number of obstacles have delayed the development. Plenty of major projects across the planet were shelved when the global economy took a turn for the worse, but many of these are now being resurrected.
The Dubai skyscraper alone will cost AED 2 billion (£355 million) and it will take advantage of modern energy-efficient processes.
Indeed, technology will be used so the building can self regulate the temperature inside, while 79 wind turbines will be added to each floor and these will generate enough electricity to power the facility.
This is one of many exciting projects slated for Dubai in the coming years, so it goes without saying that it is a very good time to be a property investor.