RevPar increases in December for Dubai's hotels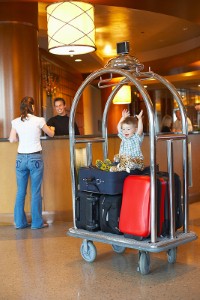 Hotels in Dubai experienced an increase in revenue per available room (RevPar) during the last month of 2014, according to new figures from STR Global.
The firm, which tracks supply and demand data for the hotel industry and provides market share analysis, has revealed that its preliminary figures show that RevPar increased by 0.3 per cent to AED812.30 (£145.72) in December last year.
In addition, the report, released on Tuesday (January 13th), demonstrated that average daily rates (ADR) enjoyed an increase, despite the emirate seeing a rise in the supply of available hotel rooms.
Commenting on the results, Elizabeth Winkle, managing director of STR Global, said: "Dubai reported positive RevPAR performance for December, after six consecutive months of declines in this measure.
"Despite the continuous strong supply growth, ADR managed to increase in one of the busier months for the market, achieving the highest levels of any December since 2008."
Dubai's hotel rooms are seen as an incredibly worthwhile investment, especially as the emirate's tourism industry continues to go from strength to strength.
Last year proved to be a record-breaking 12 months for the hospitality industry in the region, with 5.8 million guests staying in Dubai's hotels in the first six months, the highest number of visitors ever recorded in a period of six months.
One area of tourism that is experiencing an abundance of success is the meetings, incentives, conferences and exhibitions (MICE) sector. According to Simon Mellor, president of dmg events for the Middle East and Asia, this field of tourism is adding a substantial amount of money to Dubai and the wider UAE economy.
Mr Mellor believes that the MICE tourism sector is now poised for dynamic expansion as the World Expo 2020 draws closer and Dubai cements its reputation as a world leader for business travellers.