Red Arrows to perform above Dubai beach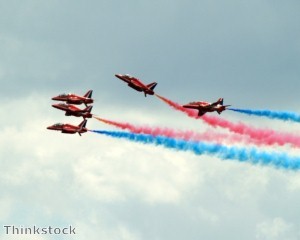 The Red Arrows will be offering a free performance above Jumeirah Beach tomorrow (November 21st).
Britain's aerial stunt team is in the emirate as part of the popular Dubai Air Show and their displays will prove a popular sight for both the business figures and tourists in attendance.
During their visit, the team will be providing a free display, as well as visiting a local school, Gulf News reports.
Flight Lieutenant Mark Lawson said: 'We are happy to be here, we don't get to visit this part of the region often so it is nice to visit an English school and see that our expat children are receiving a good education.
'I enjoy coming to Dubai, the weather is great and we always get a good reception.'
Although recent news has shown business is been booming at Dubai Air Show, it still has a large following from both local residents and tourists, as various aerial displays and demonstrations make the most of the emirate's hot weather and clear skies.
This is done through its side event, Skyview - whereas the business event runs from November 17th to 21st, the public alternative runs from November 18th to 21st. Yet it still makes full use of the international and local performances. Alongside the Red Arrows, displays from Patrouille de France and the UAE's own Al Fursan group can also be watched.
Other displays include military aircraft and paratroopers, ensuring visitors have plenty to see and do. Businesses have already reported orders from airlines for new planes and engines in excess of $200 billion (£123 billion).
Dubai caters to both businesses and tourists and these events show how the emirate can efficiently balance both when it needs to. Those visiting Dubai Air Show can bring family members with them to enjoy Skyview, or simply watch the Red Arrows on the beach.