Record results for Etihad Airways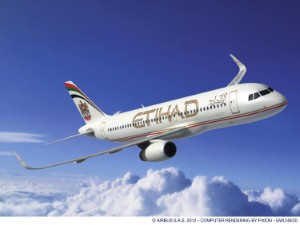 Etihad Airways - the national carrier of the UAE - continues to go from strength to strength.
The company has announced record performance figures for the second quarter and first half of 2013, cementing its status as one of the world's fastest growing airlines.
Bosses at the firm said passenger revenues between April and June this year reached $921 million (£610 million), which was an eight per cent improvement on the corresponding period in 2012.
In addition to this, Etihad saw its revenue for the first half of the year rise to $1.8 billion - a 13 per cent upturn on last year.
The carrier continues to introduce new services as the demand for flights to the UAE soars. It announced this week (July 9th) that a codeshare agreement with South African Airways has now been approved, allowing the two organisations to launch new flights to key destinations on each other's routes.
Such deals are becoming more common in the aviation sector and Etihad revealed that it generated $184 million in revenue from codeshare arrangements in the second quarter of 2013 alone - a 25 per cent increase on 2012.
President and chief executive officer at the firm James Hogan said the airline's performance in the first six months of the year was particularly satisfying given the uncertainty in the worldwide economy.
'Despite the tough global trading climate, we have still achieved record, double digit growth in both Q2 and the first half of 2013,' Mr Hogan said.
'This reflects not only the continuing popularity of our Abu Dhabi hub, but the growing maturity of our airline partnership strategy and the strength of our cargo operations, which continue to well exceed industry growth rates.'
Such was the scale of demand for Etihad flights, the business had little alternative but to add to its fleet of aircraft in early 2013, introducing two new Boeing 777-300 passenger planes.
The firm also launched new services to popular destinations, including Amsterdam, Sao Paulo and Belgrade.