'Record performance' for Etihad Cargo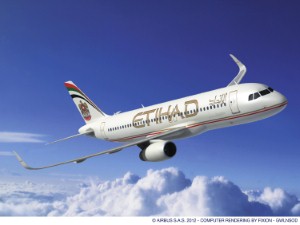 Etihad Cargo transported 49,700 tons of cargo worldwide in November, an all-time record for the carrier.
This was 52 per cent more than the 32,600 tons moved a year ago and faster growth than October's year-on-year increase of 39 per cent.
The business is the cargo arm of Etihad Airways, a partner of The First Group, which is heavily involved in the UAE but also caters to the wider world.
Chief strategy and planning officer for the airline Kevin Knight said: 'These impressive figures have been driven largely by stronger performance into and out of some of our larger markets including China and India, as well as expanding markets such as the Netherlands and the United States.'
He also put the success down to placing more cargo on passenger aircraft. The UAE, especially Dubai, is a well known tourism destination and making the most of these services is an efficient way to meet cargo demand.
This success comes after the airline, which is only ten years old, won the title of World's Leading Airline at this year's World Travel Awards - the fifth time in a row it has claimed the prize. The ceremony also saw the company take the same award for its first class services, as well as the honour of World's Leading Cabin Crew.
Founder and president of the World Travel Awards Graham Cooke said: 'The [titles] reward the best travel and tourism organisations in the world. The growth and development of Etihad Airways in just ten years has been nothing short of extraordinary.'
Etihad Airways also won this year's Airline of the Year from Global Traveler magazine alongside further accolades for its first class service and airport lounges.
These offer Wi-Fi internet, live television, mobile phone connections and other luxury items across the company's operations.
Mr Knight said: 'Looking ahead, we expect to maintain strong freight performance over the final month of 2013.'