Record passenger numbers recorded at UAE airports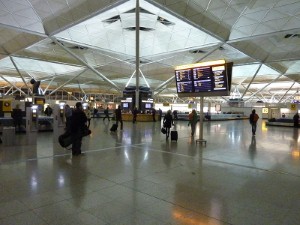 It seems efforts to attract more people to Dubai and the UAE are working, as last Friday was a record day for passenger numbers at the nation's airports.
On December 19th, some 150,917 passengers arrived and departed from aviation centres across the country, which is the highest figure ever recorded. Over the weekend as a whole, some 430,000 people passed through the UAE's airports in 72 hours, figures from the General Director of Residency and Foreigners Affairs show.
Major-general Mohammad Al Merri, the organisation's director general, told Gulf News: 'The growing number of passengers travelling through the country is a testament to its success.
'The strategies and foresight of our leaders helped us reach where we are today. Our airports are fully prepared to accommodate the growing number of passengers coming through, and we do expect the numbers to increase with time.'
He added that all of the staff working at the UAE's airports are trained to provide an excellent level of customer service, which has come to be expected of the nation.
It is safe to assume a large proportion of the people who passed through the UAE's aviation centres last weekend were heading to and from Dubai, as the emirate is by far the country's most attractive destination for both business and leisure.
Indeed, it has been forecast that Dubai International Airport will overtake London Heathrow as the world's busiest airport at some point in 2015.
Willie Walsh, chief executive of the International Airlines Group (IAG), recently told UK newspaper the Daily Mail he expects this to be the case due to the ambitious expansion plans currently being undertaken in the emirate.
Earlier this month, it was revealed 71 million passengers are forecast to have travelled through Dubai International over the course of 2014. This prompted Paul Griffiths, the chief executive of Dubai Airports, to say the transport hub is currently neck and neck with Heathrow in the race to be world number one.