Record budget to underpin Dubai's infrastructure drive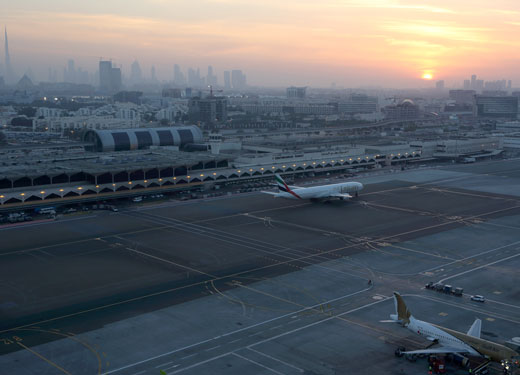 Authorities have approved a record budget for 2019, as the emirate looks to shore up its reputation as the MENA region's most important hub for tourism, trade and investment
Dubai authorities have approved a record budget of AED56.8 billion (US$15.47 billion) for 2019, with the emirate ramping up its investments in public infrastructure ahead of the staging of Expo 2020.
The budget is marginally greater than 2018's, which stood at $15.41bn and was a record figure at the time.
The government will allocate AED9.2bn ($2.5bn) to the development of new infrastructure designed to help Dubai maintain its competitive edge against other cities in the region, with aviation and tourism being among the prime industry beneficiaries.
According to the government's budget forecast, public revenues will reach AED51bn in 2019, an increase of 1.2% year-on-year.
Demonstrating the success of the city's ongoing economic diversification strategy, 92% of all revenues will be derived from non-oil sectors, with non-tax revenues forecast to account for 64% of total income; tax revenues 25%; and revenues from government investments just 3%.
The government has committed to spending AED18.74bn on Dubai's social development sectors, including health, education, housing, women and children's care, as well as reading, translation and programming initiatives.
Other key elements of the budget forecast include the creation of 2,498 new jobs as part of the Dubai government's plan for employment creation.
The budget announcement caps a period of rising business sentiment in Dubai's private sector. Emirates NBD's Dubai Economy Tracker Index revealed business optimism in Dubai reached its highest level since 2012 last October, while the city's construction output also rose the same month.
"Firms in Dubai were the most optimistic than they have been since at least 2012, with nearly 77 per cent of respondents expecting their output to be higher in a year's time," Khatija Haque, the head of Middle East and North Africa research at Emirates NBD, revealed.
A HSBC report published the following month attributed rising business confidence in the UAE to increasing oil prices, Expo 2020 and the UAE government's economic stimulus packages announced earlier in 2018.
The 'Navigator: Now, next and how for business' study, which surveyed 8,500 companies in 34 markets around the world including the UAE, revealed 87% of businesses based in the Emirates were confident about their prospects for 2019, with a similar percentage (86%) also positive about the global trading environment.
Meanwhile, the recently published 'Dubai Economic Report 2018' reveals Dubai's remarkable impact on UAE economic development in recent years, with the city's total gross domestic product (GDP) rising 2.8% year on year in 2017 to reach US$106 billion. By comparison, UAE GDP rose just 0.8% during the same 12-month period.
Dubai has moved quickly to head off competition from potential rivals in the region, revealing significant plans to liberalise parts of its economy and to make it easier for investors and certain residents to secure long-term visas.
In 2018 it confirmed plans to reduce or abolish certain licensing fees across various business sectors in a bid to attract new investment.
The city is also set to benefit from new visa rules introduced by the UAE government aimed at attracting highly qualified professionals, investors and entrepreneurs to the country.
Authorities revealed last April plans to offer investors, entrepreneurs and highly-skilled workers the option of applying for 10-year residency visas, while also allowing 100 percent foreign ownership of new businesses being set up in the country.
Previously, 100 percent foreign ownership was restricted to freezones located across the UAE.
The government also revealed plans to offer extended visa options to students studying at UAE universities to encourage them to forge post-graduate careers in the country.
"The UAE will remain a global incubator for exceptional talents and a permanent destination for international investors," said Sheikh Mohammed, Ruler of Dubai and UAE Prime Minister last April.
The new visa rules and business ownership laws will come into force this quarter.