Record-breaking indoor skydive tunnel to open in Dubai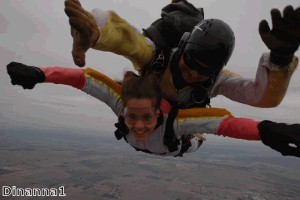 The world's longest indoor skydiving tunnel is scheduled to open in Dubai in August 2013.
Up to 22 people will be able to use the facility at the same time once the 68 ft long centre is fully operational - a world first.
Bosses at Inflight Dubai - which is a sister company of the Skydive Dubai organisation - told Emirates 24/7 they were looking to create something unique for visitors to enjoy.
Marketing manager Alex Jacob was quoted as saying: 'With maximum wind speeds just shy of 300 km an hour, the tunnel itself will be 68 ft in length and 16.8 ft in diameter.
'We are proposing two more tunnels after this one opens on the Al Ain highway, with the second location already plotted as the Skydive Dubai drop zone on The Palm Jumeirah.'
Dubai has numerous entries in the Guinness Book of World Records, with the city boasting the largest building on the planet, as well as the tallest hotel. It also houses the biggest mall on earth.
The incredible Inflight Dubai complex is just one example of why the emirate has quickly become one of the most popular holiday hotspots in the world. Tourists will never struggle to find something to keep them entertained.
To emphasise the fact that Dubai is a very special place, the sheikhdom has an indoor ski resort, which is perhaps the last thing you would expect to see in the sweltering Middle Eastern desert.
Ski Dubai has 22,500 sq m of real snow all year round and there are five different downhill runs for people to try out.
The winter wonderland can accommodate 1,500 visitors at one time and has an array of facilities, including restaurants and children's activities.
With so much to see and do, it is a good time for property investors to snap up new assets within Dubai's thriving hospitality sector. Tourism figures are expected to rise even further in 2013 and people who own hotels, apartments and villas have been able to ramp up their rates.