Real estate investment: Why Dubai?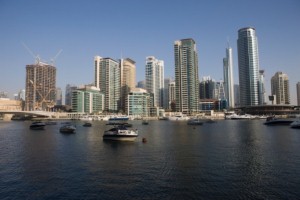 A recent report from Cushman & Wakefield (C&W) has detailed how real estate investment in Dubai has achieved exponential growth of 2,174.3 per cent in the the year ending June 2014, with the value of these transactions hitting $3.68 billion (£2.29 billion). This suggests that investors are flocking to the emirate to snap up property, so the question is why Dubai?
According to Ian Albert, head of regional operations at Colliers International, there are several significant reasons why investing in Dubai's real estate is a sound financial decision. The emirate's economy is moving from strength to strength and has achieved a safe-haven status, suggesting that now is the time to buy into its property market.
"Keeping money with banks is as good as getting zero per cent - real estate remains a top consideration for global investors for yield generation and Dubai's residential space provides between five and eight per cent," Mr Albert commented.
"While yields may have softened slightly from what they were a year ago, they are still better than those from most other cities."
Growth
According to Shayne Nelson, the chief executive of Emirates NBD, Dubai's biggest bank, the growth being seen in the emirate has much to do with its safe-haven status. He believes investors perceive the region as having a stable, well-governed and secure economy - which is attracting the attention of the rest of the world to its residential and commercial property sectors.
Since September 2013, Dubai has been experiencing a phase of heightened growth in terms of its property values, helped significantly by the fervour generated by the emirate being crowned as the host of the World Expo 2020. The news saw demand for real estate soar by 20 to 30 per cent between November last year and January 2014.
Last year, the property market in the emirate proved to the world it was worth investing in by achieving growth of over 25 per cent. The sector has grown at a rapid rate, being driven by the constant wave of demand. This has continued into 2014, indicating that Dubai properties are an attractive real estate investment.
World's hottest market
During September, residential and commercial property consultancy Knight Frank released a report that described Dubai's real estate market as the "globe's hottest", with growth outpacing any other country in the world.
The latest Global House Price Index demonstrates that the emirate has managed to maintain its top position for property price increase for the fifth consecutive quarter, with an annual growth of 27.7 per cent. This achievement puts Dubai's real estate market leaps and bounds ahead of its nearest rival China, who only managed to attain growth of 17.5 per cent.
Khawar Khan, a research manager at Knight Frank Dubai, wrote on the company blog: "Dubai's strong economic conditions and buoyant labour market continue to attract foreigners in their droves. Since this rising population needs decent (and not always luxurious) accommodation, we expect demand to outstrip supply in the short-term."
Infrastructure
In the lead up to the World Expo 2020, Dubai will be making several significant changes to its infrastructure in order to accommodate the 25 million visitors expected to flock to its shores during the six month event and to transform it into a nation that truly reflects its winning concept: 'Connecting Minds, Connecting the Future'.
Some of the changes being made will serve to boost the emirate's real estate market long after the closing of the Expo in 2021. One of these, a $32 billion refurbishment to Al Maktoum International Airport, will see demand for residential property rise, according to consultancy firm Cluttons.
Faisal Durrani, international research and business development manager at the company, commented: "The residential sector will no doubt be an obvious long-term benefactor of the significant rise in the number of jobs being created, with both lettings and buyer demand set to rise significantly as the number of households in the city increases."
Other changes, such as the improved metro service and the development of super-sized malls, will work to increase the satisfaction of residents living and working in Dubai, which will subsequently keep demand for supply strong in the future.
This is merely a small snapshot that should highlight the benefits of real estate investment in Dubai, revealing why it is one of the world's most lucrative markets and should be on everyone's radar for 2015.
Posted by Bob Brunskill