QE2 set to make landmark Dubai to China trip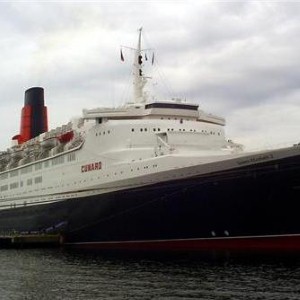 The famous QE2 ship is set to complete a milestone journey from Dubai to China - its first trip since leaving the UK in 2008.
Now owned by an organisation called QE2 Shipping, the boat has spent the last five years docked in the UAE.
Plans had been in place to transform the iconic ship into a luxurious floating resort in Dubai, but the global economic downturn meant the project was shelved.
Bosses at QE2 Shipping revealed the vessel will set sail once again in October, before the craft is taken to an as yet unnamed Asian destination, where it will be converted into a hotel.
It will be a landmark journey for the boat, which was known as one of the greatest Transatlantic liners during its heyday. The ship embarked on its first voyage in 1969 and was famous for being one of the biggest and fastest ferries ever made.
The QE2 was also used to transport thousands of British troops to the Falklands in the 1980s.
Chairman of QE2 Shipping Khamis Juma Buamim said: 'Over the last few months we have put a lot of effort and work into this project in planning and negotiation and our overall plans for the QE2 are well on track.
'We will deliver an iconic project for the world to romance and talk about for many, many years to come.'
Not only does this important project raise the profile of Dubai's burgeoning holiday cruise industry, it is also a good example of a massive scheme that has been resurrected after previously being postponed because of the shaky economy.
Dubai was hit hard by the global financial meltdown in 2008-09 and many developers had no choice but to pull out of expensive building projects.
While many parts of the world are still struggling to recover from the collapse, Dubai has gone from strength to strength in the past 12 months or so, with investors flooding back to the UAE.