Property values 'rose by 50% in some part of Dubai in 2013'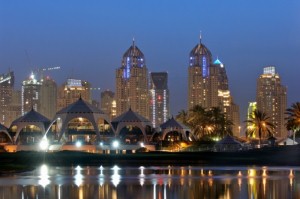 Last year was a good one for the property market in Dubai, with the latest figures suggesting buildings in some parts of the emirate grew in value by up to 50 per cent.
Annual statistics released by Dubizzle show there was a significant increase in house prices and rental charges in certain areas of Dubai in 2013, with the Jumeirah Village Circle, Tecom and Dubai Sports City all picked out as being particularly lucrative, reports the National.
Indeed, these zones were said to have witnessed the largest rises in prices, leasing deals and sales, although it should be pointed out there were increases across the board.
Ann Boothello, property marketing specialist at Dubizzle, said: '2013 has no doubt been an eventful year in real estate here in the UAE.'
She revealed that the last year saw a number of developments, including a rise in the amount of new schemes launched by developers, a hike in property registration fees and new rental decrees imposed in Dubai and Abu Dhabi.
'These are a few of several interrelated dynamisms that have influenced the price trends seen in 2013. These are some of the highlighted topics that residents will factor in when looking back at the price shifts observed,' Ms Boothello explained.
Mario Volpi, managing director of Prestige Real Estate, added the rises in certain parts of Dubai came on the back of similar improvements in the market in 2012.
The marina and downtown are picked out as good examples of areas that became more valuable and sought-after in 2012, while Jumeirah Village Circle is somewhere that has been boosted significantly in the last 12 months.
While some of the more affordable parts of the emirate caught up in 2013, there were still healthy rises for places such as Dubai Marina, downtown and Jumeirah Lakes Towers, which recorded rental increases of 15, 16 and 14 per cent respectively.