Premium lounge first for Etihad at New York JFK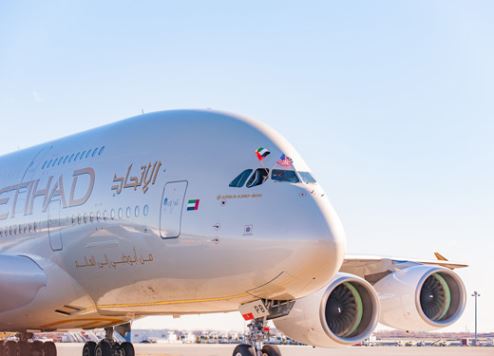 Etihad Airways, a strategic partner of The First Group, has unveiled the airline's new First and Business Class Lounge at New York's JFK International Airport.
The Abu Dhabi carrier's president and CEO, James Hogan, officially opened the facility, which is Etihad's second premium lounge to open in the US.
It is conveniently located close to the gate area after the security checkpoint in JFK's International Terminal 4.
Hogan said the opening of the new lounge reinforced the airline's commitment to "investing in the travel experience" and providing guests with" the highest levels of comfort, luxury and world-class hospitality at every point in their travel journey – on the ground and in the air".
The JFK lounge – which emulates other global lounge facilities in Abu Dhabi, Frankfurt, London Heathrow, Manchester, Dublin, Paris, Sydney and Washington, D.C. – is designed with the "Facets of Abu Dhabi" brand theme.
It is adorned with the brand's geometric design concept and uses a colour palette that reflects the varying hues of the UAE landscape, from the darker sands of Liwa to the lighter colours seen in the Northern Emirates.
Lounge highlights include a sculptural showcase bar and lounge with an extensive and bespoke cocktail and mocktail offering; custom furnishings by Boss; luxurious restrooms with showers and changing rooms; dedicated male and female ablution and prayer rooms; plus a library and luggage storage.
Etihad Airways guests travelling in The Residence by Etihad™ First Apartments or Business Studios have access to the lounge pre-flight. A private lounge is accessible exclusively to guests travelling The Residence by Etihad™, complementing the private luxury offered with this service in-flight.
Etihad Airways' A380 featuring The Residence by Etihad™, First Apartments, Business Studios and Economy Smart Seats commenced services between Abu Dhabi and New York's JFK International Airport on 23 November. The daily A380 service replaces a Boeing 777 and complements a second B777 daily flight between the two cities (operated by Etihad Airways on a Jet Airways-branded aircraft).