Powerboat racing in Dubai this weekend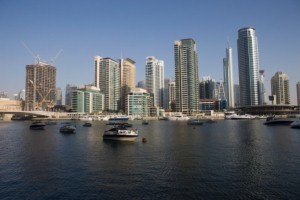 A popular powerboat racing event is taking place along the coast this weekend.
Dubai will be hosting the seventh, and final round of the UIM Skydive Dubai XCAT World Series, taking place at Dubai International Marine Club this Friday (December 13th) and Saturday.
The first race starts at 10:15 local time on the Friday, followed by the Dubai Duty Free Speed Cat Run at 15:00. This is a one-on-one competition which will offer something a little different from the regular races. The main event itself, Dubai Grand Prix, will start at 14:30 the next day.
Practice sessions will also be taking place for anyone wishing to watch, scheduled for 14:30 local time today, as well as 11:30 on Saturday.
Secretary general of the World Professional Powerboating Association Sid Bensalah said: 'It's all systems go and the excitement it building. Our team is working tirelessly to put on a spectacular event this weekend as XCAT action returns to Dubai, for the final race that will decide the Championship.'
Heading into the last leg of the contest, the competition is close. The top team, Fazza, has 1,501 points, followed by the Mouawad (1,290 points) and Skydive Dubai (1,206 points) teams. A win in Dubai will generate an additional 400 points.
Mr Bensalah said: 'We couldn't have asked for a better conclusion to the series as several boats are still in with a shot of taking the series, so the Dubai crowds are really in for something special.'
Alongside the racing will be various family friendly activities, including exhibitions from Skydive Dubai and a dedicated children's area.
This is only one example of the more extreme sports which frequently make use of Dubai's coastline, whether its for the clear ocean waters or open skies above it. For instance, the emirate held its fourth annual Dubai International Parachuting Competition at the start of the month.
The contest saw a number of international teams participate, including the city's own Skydive Dubai, in various rounds. Yet it included a number of public displays, especially when it overlapped with UAE's National Day on December 2nd. This year, an aerobatic display was performed by the UK's Red Arrows.