Porsche 'sells the most in Dubai'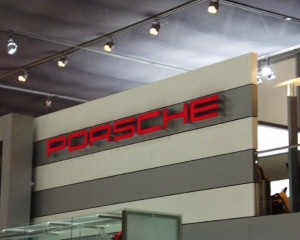 Porsche's distributor in Dubai and the Northern Emirates has sold more sports cars than any other dealer worldwide over the last ten years.
This is according to the chief executive officer of Al Nabooda Automobiles K Rajaram.
He made the announcement during a visit by Porsche's vice president of overseas and emerging markets Helmut Broeker. During this trip, Mr Broeker inspected the location of an upcoming AED 144 million (£24.4 million) Porsche Centre.
Situated between the second and third intersections along Sheikh Zayed Road, this 4,800 sq m facility will feature 15 work bays, wheel alignment and tire servicing. It will also display as many as 50 new models on its three floors, while the basement has parking for 205 vehicles.
It is clear from this level of investment Porsche is paying plenty of attention to Dubai and investing in the wealth available, especially since there is a strong appreciation for luxury sports cars.
Mr Rajaram said: 'Over the last decade, we've sold more Porsche cars from a single dealership than any other Porsche dealer in the world. Far from resting on our laurels, we want to build on this success and continue our commitment toward our customers, business partners and the local community.'
Last week saw Dubai International Motor Show take place from November 5th to 9th at the Dubai World Trade Centre. This was, as ever, a popular event and the biennial celebration is already set to return between November 10th and 14th in 2015.
As a sign of both the wealth and motoring passion in the emirate, one can also look at the recently announced Lyken Hypercar - built in Dubai, only seven of these $3.4 million (£2.1 million) vehicles will ever be made.
Alongside the new Porsche centre, other additions include the world's largest Audi workshop, which will open in the final quarter of next year, as well as Volkswagen garages.
The new Porsche building is under construction and set to open in the third quarter of next year.