Plans unveiled for Expo 2020 village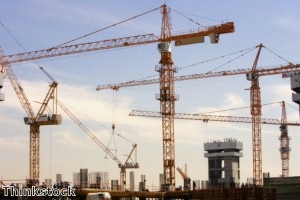 A special village is to be constructed ahead of Dubai's hosting of Expo 2020.
The site will resemble Olympic villages and will act as the perfect location for people attending the event to stay.
More than 2,000 apartments, banks, retail outlets and restaurants are going to be constructed on the 438 hectare site in Jebel Ali, while a special solar-powered canvas canopy will also be built.
Speaking about the development to the National, director of investment and development at the Dubai World Trade Centre Christopher Scott said the Arabian souq - which is an open-air marketplace or commercial quarter - is at the heart of the plans as organisers seek to bring 'amazing vibrancy' to the project.
'A tremendous amount of planning has gone in to reaching this stage. We're entering the next phase of planning. We will start construction after 2015 but some infrastructure requirements, like the Metro extension, may start earlier. Our target is to create everything a year before to give us ample time to do testing at the venue,' he added.
After Expo 2020, which is expected to add $23 billion (£14 billion) to Dubai's economy, Mr Scott confirmed the apartments will either be rented out or sold on the open market. He remarked doing this ensures the scheme does not become a white elephant.
Daniel Hajjar, principal of HOK Middle East and Africa, the company responsible for the design of the site, said strong local content has played a big role in the look of the final design. He stated the importance of making a 'grand statement' as the village gives the southern part of the city the chance to be viewed as a beacon.
The three themes of the expo - opportunity, mobility and sustainability - will each be given a zone where the theme will be explored further.