Plans proposed to encase Burj Khalifa in reflective fabric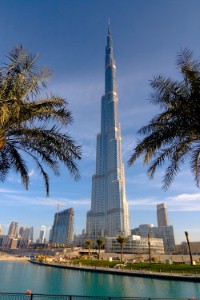 A Dubai-based think tank has proposed to encase the Burj Khalifa in reflective fabric.
OP-EN has come up with the idea to cover the world's tallest building in translucent material, which will be suspended from the central spire of the structure. The temporary feature would be fan-shaped and is the latest attempt at showcasing the tower to the world.
Entitled the EXO-BURJ, the project will provide a reflection of both the building and its surroundings. Visitors would also be able to walk up to the structure and experience the installation first-hand. The company claims the public will even be able to touch the facade.
The OP-EN website claimed: 'The end-result would amplify the visual perspectives of the city's skyline, augment the tower's symbol as an urban centre of gravity and create an artistic atmosphere on a vast architectural scale.'
It claims the idea is designed to create a fluid urban ambience by suspending the super-lightweight material from the structure. The company stated this will complement the building's already-reflective facade.
Standing at an impressive 828m, the tower has regularly been used as a focal point in the emirate since it was opened in 2010. It is the main feature of Dubai's fireworks and celebrations and has even appeared in movies. Tom Cruise is seen to swing from the building during the latest Mission Impossible film.
Other events held at the structure have included a vertical catwalk show, while Crown Prince Sheikh Hamdan Bin Mohammed Bin Rashid Al Maktoum was filmed waving a UAE flag from the top of the tower. This was in celebration of Dubai's successful bid to host the World Expo in 2020.
Designs for the temporary facade are still in their early stages and the group has not yet approached the building's developer, Emaar Properties, about its ideas. It hopes this will happen soon, once further feasibility studies have been carried out.
Photo Credit: Thinkstock/iStockphoto
.