Plans for new tallest office tower to be built in Dubai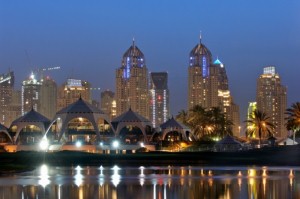 Dubai is famous for its high number of towering skyscrapers and plans have been revealed for the construction of a new huge building in the city.
Ahmed Bin Sulayem, chairman of the Dubai Multi Commodities Centre (DMCC), told Bloomberg he hopes to develop the world's tallest commercial tower in the emirate as this will help to maintain Dubai's position as an attractive global business hub.
The project is currently only in the planning stage and is yet to be designed or have the necessary funding secured, but Mathew Lomax, director of property at DMCC, told the news provider the structure would be at least 520 meters high and be located at the centre of a wider 107,000 square-meter business development.
He claimed the tower would be constructed over a five-year period and cost approximately $1 billion (£640 million). The organisation would then sell part of the building and keep the rest as a means of rental income.
This is not the first project of this scale undertaken by the DMCC, as the state-run body was responsible for the creation of the Almas Tower, which at 68 stories storeys high was the tallest building in Dubai upon its completion in 2007.
Mr Bin Sulayman said the structure is currently full and has a waiting list of potential tenants and he believes this is proof there would be sufficient demand for the creation of a new skyscraper.
'The crisis has shown us that well-designed and thought out developments will always hold value and demand,' he told Bloomberg.
'We will be running out of space and the world's tallest commercial tower will help attract more companies.'
Mr Bin Sulayman said the new structure will be targeted at multinational companies who will be given the chance to take up residence in the building before smaller organisations.
He claimed this is necessary as such firms tend to require a large amount of space and have to plan any move well in advance.